Event Registration
Native Guide to Balance & Wellness with Billie Topa Tate
Description:
The time honored wisdom of indigenous people is wonderfully presented within this class.   The new frontier of science reveals that so many of what ancient ancestors used can uniquely promote a beautiful landscape of healing properties.   Explore and experience opportunities of sacred balance and re-establish your inner pace and timing to promote and launch wisdom that can be used during our every day activities.Here are some of the topics we will be covering during our class lecture.
In this class, you will learn...
Introduction to Native Principles regarding indigenous practices for balance and meditation.
Our Mescalero Apache tradition regarding restoring balance and special simple however, meaningful techniques to improve everyday life through meditation.
Wisdom sharing and techniques on how to be guided by higher thought as a way of liberating constrictive stress points in our life.
The practice of relaxing the breath and using what Native People call  " Sacred Breath" with meditation.
The meaning, purpose and techniques that can be applied to creating wellness qualities within our daily routines and integrating short burst meditations.
Treating the body and mind as energy first and applying techniques on how to navigate our energy productively.
Introduction to easy Native meditation techniques, and the value of connecting with nature
About The Instructor: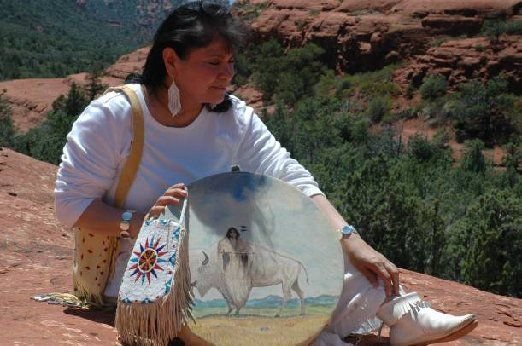 Billie Topa Tate' is the founder of MSI Healing INC an earth friendly educational institute located in Evanston, Illinois. Billie is Mescalero Apache and is dedicated to presenting the sacred principles, doctrines, and teachings of her Native Culture and many ancient wisdom systems from around the world, creating synthesis through harmony of many lineages.  She is dedicated to be of service to anyone who is seeking wellness, spiritual growth, mindfulness and training to build on current healing practices.  She has been offering services for over 25 years in the North Shore Evanston Community.
 To learn more about Billie Topa Tate and her services, click here
We are sorry but registration for this event is now closed.
Please contact us if you would like to know if spaces are still available.