Billie Topa Tate'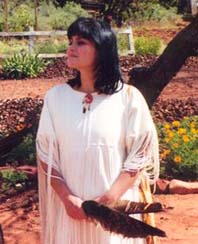 Billie Topa Tate' is the founder of MSI (Mystical Sciences Institute) an earth friendly educational institute located in Evanston, Illinois. Billie is Mescalero Apache and is dedicated to presenting the sacred principles, doctrines, and teachings of her Native Culture and many ancient wisdom systems from around the world, creating synthesis through harmony of many lineages.
Billie is a traditional Native American healer and teacher of Mescalero Apache descent, trained and educated by numerous family Elders and extended family members. She is a Reiki Master Teacher Eighth Degree and licensed Therapeutic Massage Therapist. Billie is an approved provider of continuing education and meditation programs for: Meditation Teachers, Massage Therapists and Illinois Nurses. Billie Topa Tate has written and lectured extensively for more than 18 years. She is internationally recognized as a respected teacher, healer and advocate of Earth Friendly endeavors. Billie maintains a successful practice at her MSI center in Evanston, and with the expressed permission from her Native culture, Billie shares many of the ancestral principles, healing systems and native wisdoms with her students and clients.
Billie Topa Tate is the author of:
Life Style Skills for the Modern Mystic – a 8 month lecture program to help facilitate techniques, wisdom, and healing practices for the busy modern mystic. It is like being with an elder and receiving training on how the universe works and how to maintain your spiritual practices even on a busy schedule.
The Reiki Phowa – which is currently her book in progress, combining the practice of Native American principles, Tibetan Phowa philosophy and the traditional Reiki system to assist our loved ones during the time of transition.
The Reiki Cranial Fascia system – which is a healing modality combining Reiki, hand postures, cranial movements and Native point of origin traditions to help facilitate healing in body mind and spirit. This healing modality is being taught to medical doctors at Rush Hospital in Chicago
The Loving Kindness Meditation – is the first recording of prayers and ceremony done during the sun rise and sun set ceremony. This 27 minute guided meditation promotes relaxation, healing for self care and for mother earth. This meditation is offered free and open to the public every Friday at 6:30pm – walk in's are always welcome. If you are unable to join us in person please click here to enjoy the meditation from anywhere in the world.
For more information or to schedule an appointment, please contact our MSI office at 847-866-0505.
"Billie Topa Tate through her energy work and clairvoyance is providing me with significant relief of chronic and severe back pain and headaches. My daily pain is diminishing, and I felt so well after my last session that I felt like dancing. I highly recommend her sessions for anyone in need of stress and pain relief. You can use either."
"I am so grateful to have crossed paths with Billie. She is a wonderful healer and visionary and speaks with great kindness and love. Her visions have held true over the years. Now that I've moved from Chicago, I do remote sessions by phone and remote healing sessions, and those are just as powerful as the in-person sessions. Thank you, Billie, from the depths of my heart!"