Indigenous Wellness Training | Mentorship Program
FREE VIDEO: SCROLL DOWN AND ENJOY
Embark on an inner journey of self discovery, strengthen your personal spiritual practice and learn the skills to teach and transform the lives of others.
This certification program is a beautiful way of learning from a wisdom filled teacher about enhancing your knowledge and expertise utilizing self-awareness, sacred balance and energetic tools for your life's journey.
Learn from Master Teacher and Eight Degree Reiki Master Teacher, Billie Topa Tate in this unique mentorship. This training is a beautifully designed accessible approach to exploring wisdom and to spark the mystic within all of us.
Excerpt of topics included the Mentorship Training:
The Mystical and Energetic Anatomy
The Energy Field – Advanced Tool of a Teacher, Mystical Anatomy, Energetic Nutrition
Chakras – The Encasement platforms of Past, Present & Future
Nadi System – The Vitality Energy Tool
Sacred Breath – The Home of Powerful Energy
Mystical Time – The Landscape of the Mind- Creators Gift to access many worlds
The Advanced Teacher Meditation Platform
Psychic Faculties – qualities & abilities of a teacher
The Energetic Journey – Master Teachers Knowledge of Life and the Universe
Karma Principles and Universal Laws
Reincarnation Platform and why it exists
Teacher in Spirit, Guardian Angels, Divine Helpers, Medics Hierarchy
Dispersing Lesser Vibrations – Master Teachers tools to clear and transform
Karma Invocation – Mystical Tool to Heal Past Lives
Dream Time World- The Energy world of symbols
The Kingdoms (Crystal, Plants, Animals and the teachers responsibility and principles
Energetic Therapies – Tools & Wisdom Logs of a Master
The Master Teachers Dowsing System – Powerful tool of focus and guiding energy
Native and Indigenous Wisdom Training, Sage Woman's Wisdom Training
Shaman's Life Lessons and Wisdom Training
Platform of Energy work – "Principle of Light" core training
Kriya Shakti Platform – Master tool of Manifestation
Energy placement to de-stress and release congested energy
Mystics Wisdom of Transition – Veil of Transition
---
Registration Details – Certification Mentorship
Accessible approach to learning paired with practical hands on experience to drive accelerated results.
Cultivating these life skills which empowers how you navigate situations, think, observe, interact and connect with the world around you.
Enroll in the personal enhancement platform with extensions for professional certification.
Enrollment Fee: $300 includes – handout's, diagrams and booklets which will be used throughout the training.
Mentorship Commitment: 2 One Hour Private Training Appointments Monthly; $125/hour.
---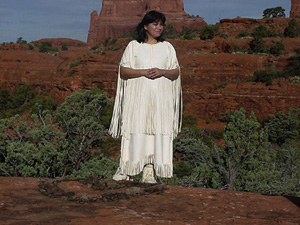 Your Instructor: Billie Topa Tate has maintained her successful practice of mentoring people and sharing her wisdom regarding how the universe energetically works and indigenous knowledge.
Since her rites of passage at 11 years old, she has learned many beautiful energy and indigenous principles about how the universe works and Billie Topa Tate shares with great detail all of her training within this program, such as, techniques, knowledge and skills that she has learned from her teachers throughout her life.
This is a rare and unique opportunity to learn from her vast amount of training. This program is structured to provide avenues of enlightenment, clearing blocks and obstacles for success, and excellent navigation tools for our life's journey.
---
To sign up please fill out the form below: