Ionic Foot Bath Detox
The Ion Cleanse Detox Machine is a water foot bath that utilizes electrodes, which clean,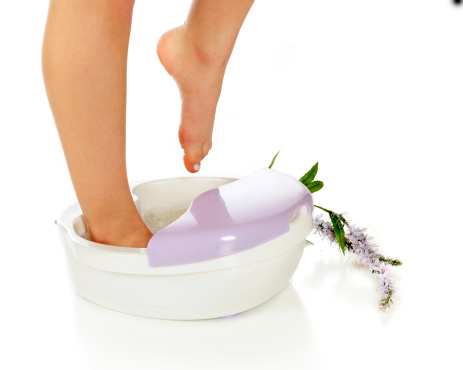 balance and enhances bio-energy, a vital force present in the body's fluids. The Ionization Theory – is to assist in detoxing from chemicals, pollution radiation, synthetics, toxins, tobacco, parasite. Reflexology teaches us that the feet is actually an outlet through which the body attempts to cleanse or rid itself of heavy metal and toxic waste.
Think back to the way your body felt when you last walked on the beach and felt the energy of the waves, you were able to breathe deeper, your brain cleared, your body felt in tune with the earth, at peace and rejuvenated. The ionization of trillions of water molecules crashing to the earth caused rejuvenating positive reactions. The Ion Cleanse Detox Machine is a high tech water detoxification system that facilitates the body's ability to heal itself.
Session Details:
Our Ionic Foot Machine Is FDA Approved
30 minutes: $45

Understanding Your Foot Detox Colors: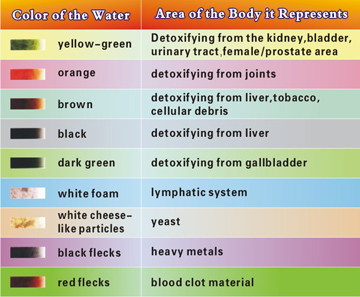 Improvements You May Notice:
Pain relief, including: less joint stiffness, headaches, knee pain, foot pain, general muscle pain
Increased energy
Improved sleep
Improved digestion
Toxin reduction
Decreased swelling
Circulatory system improvement
Reduced weight
Skin improvements
Emotional improvements
Respiratory improvements, and much more
24 Hour Cancellation Policy.  Should you need to change or reschedule your scheduled appointment, you will need to provide 24 hour notice .  If you call to reschedule or cancel your appointment under 24 hours notice you are subject to the full amount for each session.