Description
Welcome to the long awaited Reiki Digital One on One Certification Training with Billie Topa Tate – Reiki Master Teacher 8th Degree.  It's no secret that Billie Topa Tate's training is not only thorough, she also provides her deep Native Indigenous wisdom regarding the energy principles of wellness.   The purpose of this course is to provide students a working knowledge and training regarding the Traditional Reiki system.   Reiki is a technique for stress reduction and relaxation that allows anyone to improve the quality of life.  This course examines the key elements of Reiki with a strong focus on applications of advanced techniques.  Become part of todays innovative energy wellness training!  This is an open to the public training.
What is Included in Your Course …
Reiki Practitioner Training Manual Levels 1,2,3 with advanced teaching and techniques
Digital Training Sessions (8 Hours) Guided by Billie Topa Tate (recorded in 2023) *
2 One on One Trainings Sessions with Billie Topa Tate (in-person/virtual 60 min each)
2 Reiki Homework Assignments
1 Reiki Final Exam (open book)
Reiki Attunement
Reiki Practitioner Certification Level 3
————————————
The Reiki practitioner training encompasses…
Reiki – Past and Present
The history of Reiki, What is Reiki, The Five Principles of Reiki, How does Reiki work
Traditional Training for Reiki Sacred Symbols
What is a Sacred Symbol and How do Reiki Sacred Symbols work, Single Use of Reiki Symbols
The Reiki Power Symbol
The Reiki Mental Symbol
The Reiki Distance Symbol
The Reiki Truth Symbol
The Reiki Eternity Symbol
Drawing, and Training of Reiki symbols. Clearing a room, Distance healing with Reiki
The Reiki Attunements
The Reiki attunement process – the energy matrix of the human body, the polarity before /after Reiki
Preparing for an attunement, what to expect during a Reiki attunement
The Reiki Healing Methods
Traditional Reiki Session hand Positions for Self-Care, Chair, Table Demonstration
Advanced Reiki Table Demonstration and Lab work
Activating Reiki and the healing process, gratitude and Reiki invocation
How to use Reiki beyond the traditional Self Care, Chair, Table Session
Enriching the Client Experience – Self Care and Client Care
Client and Self Care Training, Neti pot, Therapeutic Salt Bath, and general homework for client
Links and recommendations for your Reiki practice
Advanced Reiki Training for Level 1, 2, 3 Practitioners
Attunement to three harmonic tones to activate the Reiki Energy
Using mantra, hand postures and body postures to activate Reiki Energy
Training of 5 polarities and elements for the energetic system of the Human body
Attunement to Reiki Dream work, and basic training for Reiki Dream Work
Reiki Invocations, Documents, Distant Healing Forms and Reiki Talismans
Reiki Invocation for Treatments, Client affirmations
Reiki Invocation for Food and Drink
Reiki Distant Healing Journal and Treatment Log
Talismans of Healing and Good Fortune
Reiki Guidelines and Code of Ethics for our Reiki Practice
Staying in the scope of our practice, IMA group practice member insurance information
State of Illinois – Medical Practice Act of 1987, The Reiki Glossary
Code of Ethics – When using Reiki and all aspects of our Healing practice
————————————
Once you have completed your payment you will have full access to all three digital training sessions.  Your training manual and two homework assignments will be usps mailed to you. Your Reiki exam will be provided after your completion of your second and final one on one training with Billie Topa Tate.
One on One Sessions with Billie Topa Tate – Founder of MSI Wellness Center and 8th Degree Reiki Master.  You will have 2 one-hour sessions in-person, via phone or zoom.  This is for your attunement, review of questions, topics of discussion and applications.  Please complete 50% of the materials and then call MSI Wellness Center to schedule your first 1-hour training with Billie Topa Tate.  You will then complete the remaining materials followed by scheduling your second one on one with Billie Topa Tate.  She works with students Monday – Friday 10am – 5pm CST.
Your Reiki Practitioner Certification will be mailed to you once you have completed…
Completed Reiki Training Manual
Watched 3 Digital Training Sessions
2 one-hour training sessions with Billie Topa Tate
2 homework assignments
Final Reiki Exam
 An Exceptional One on One Digital Experience. 
Let this be the year to experience powerful reiki training everyone's been talking about with Billie Topa Tate.
About The Instructor: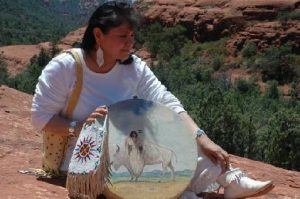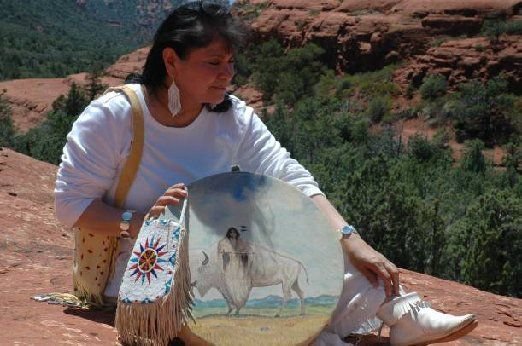 Billie Topa Tate' is the founder of MSI Healing INC an earth friendly educational institute located in Evanston, Illinois. Billie is Mescalero Apache and is dedicated to presenting the sacred principles, doctrines, and teachings of her Native Culture and many ancient wisdom systems from around the world, creating synthesis through harmony of many lineages.  She is dedicated to be of service to anyone who is seeking wellness, spiritual growth, mindfulness and training to build on current healing practices.  She has been offering services for over 25 years in the North Shore Evanston Community.
 To learn more about Billie Topa Tate and her services, click here
Join the In-Person Group Trainings February, June and October Trainings Available – Call MSI Wellness Center 847-866-0505 for details.
* the digital recordings are in ONE video for you to enjoy – this includes three days of training.  You simply click on MY ACCOUNT from any internet based device and enjoy.