3 Ways to Celebrate Buddha's Birthday & Wesak Full Moon
What does the Wesak Full Moon Mean?
The Wesak full moon is considered the most powerful full moon of the year – May 15th, 2022. When doing mediation on the Wesak a down pouring of healing energy is given to all those whom are seeking it. It's allows for one to have contentment, peace and joy. Using this divine healing energy that is cultivated in one's body and spirit all that can be sent to healing Mother Earth.
Acts of Kindness during the Wesak Buddha's Birthday
On this day, Buddhists do not eat meat. This is considered an act of compassion towards animals. People are encouraged to perform other acts of kindness such as sharing the gift of meditation, breathwork, introducing a loved one to ways they can release stress are a few beautiful ways to honor Buddha's birthday. We welcome you to 3 perfect ways to enjoy the celebration online + in-person + worldwide…
May 15th Sunday Buddha's Birthday & Wesak Full Moon
Vision Quest – Finding Your Path & Purpose Guided by Billie Topa Tate on May 15th Sunday 10am – 12pm CST. This in-person gathering is set on the full moon of May, which is a beautiful time for native people. The full moon is also called the Buddha blessing moon. All indigenous cultures provide a time for the sacred seeker within us. Take time away from your busy schedule and situations to connect with your "wisdom self".
Here are Great Reasons to Join…
A) Experience the blessings of the flowers ceremony administered to your aura
B) Explore the sacred seeker within through the circle of life smudge prayer
C) Discover the answers around you by trusting and learning the signs from spirit
D) Enjoy the dream traveler as you connect with the ancestors of the forest
E) Learn how to make a cleansing smudge stick from organic eucalyptus leaves with our guides
All supplies are included in this gathering. Secure your place in the vision quest by calling MSI Wellness Center 847-866-0505 or click HERE.
May 13th Friday Free Community Meditation in Celebration of Buddha's Birthday
Our Evanston, Illinois Wellness and Meditation Center invites you to a free group guided meditation for peace, mindfulness, and relaxation May 13th Friday from 6:30 pm – 7:30 pm (in-person). We begin with gentle breathing techniques followed by short Native American drumming into the guided meditation. Walk in's are welcomed to enjoy the free community meditation. Please arrive a little before 6:30pm to ensure we can begin on time. Click HERE for more information.
Free Worldwide Meditation in Celebration of Buddha's Birthday
Meditation Across The World – Enjoy a beautiful free guided meditation by Billie Topa Tate – Founder of MSI Wellness Center. Each and every person has reason to hope for peace and we can create a sacred space for everyone and make a difference. As a random act of kindness in honor of Buddha's Birthday share this post with a loved one so they too may enjoy the healing benefits of meditation. Click HERE to enjoy the Loving Kindness Meditation (click and scroll to the bottom of that page).
---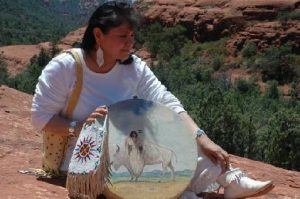 Billie Topa Tate' is the founder of MSI Healing INC an earth friendly educational institute located in Evanston, Illinois. Billie is Mescalero Apache and is dedicated to presenting the sacred principles, doctrines, and teachings of her Native Culture and many ancient wisdom systems from around the world, creating synthesis through harmony of many lineages. She is dedicated to be of service to anyone who is seeking wellness, spiritual growth, mindfulness and training to build on current healing practices. She has been offering services for over 25 years in the North Shore Evanston Community.
To learn more about Billie Topa Tate and her services, click here