Connecting with Your Energy Stones and Crystals
Crystals and Stones experience their consciousness through the energies that flow through them. This means the energies of the natural forces and other minerals around the crystals connect you, your beautiful intentions and your interactions with your crystals.
When you connect with your crystal or energy stones you are initiating this crystal to the virtuous action of co-creating with you.  Always clean and de-program your crystal before beginning your co-creation with your crystal.
The Importance of Cleaning your Crystal or Gemstone:
There are many ways to energetically clean your crystal or gemstone.    Crystals and or gemstones are structured to absorb energy, utilize energy, magnify energy, transmit and receive energy.    The general operating system of a crystal is to collect and absorb from its environment and this is why it is important to clean them.    The following information is how I clean my crystals, however, there are other methods to cleaning crystals and gemstones.
Depending upon the use of your crystal or gemstone it is advisable to clean them weekly or monthly or daily.
Cleaning Instructions for Crystals or Gem Stones:
Use one part salt (regular salt is fine), and two parts water.   The water is best at room temperature or tap water.
Submerge the entire crystal in the solution.   Allow for the crystal or gemstone to remain in the solution for at least 15 minutes – 1 hour.  If the crystal or gemstone is too large, use a  spray bottle and mist the crystal or gemstone with the solution.     As you are spraying the solution on the crystal or gemstone it makes for a more powerful cleansing if you chant while spraying.
After a thorough saturation, use clear water to rinse the crystal or gemstone.
Use a towel to dry the crystal.
The recommended chant is "I ask that any previous program on this crystal to be removed" and " may this crystal be empowered with peace, peace and perfect peace"
You can also use Witch Hazel as a replacement for the salt component for the cleaning solution.    These two solutions are the deepest and simplest way to clean and clear your crystals or gemstones.
Join Billie Topa Tate at her upcoming workshop Angels and Crystals March 18th Sunday 10am – 12:30pm.  Click here for details.
---
Share Love & Kindness Today
Today is a day to celebrate love and friendship.  Karma is the spiritual principal of cause and effect. A belief that what you put out in the world spiritually and emotionally is what you in return will receive.  Today is a day of giving and receiving love.  We are encouraging all our followers to increase the love and kindness they bestow on others.  And as a result we will provide you with tools to attract people to bestow love and kindness onto you.
Loving Kindness Mantra to do today:
"I tap into the power of the Universe.
I am beautiful and everyone loves me."
Instructions:   Repeat the above mantra in your mind like you are singing a sweet song throughout your day.
Loving Kindness Meditation to share today:
Send this Loving Kindness online meditation to three people in your life today.
About Billie Topa Tate: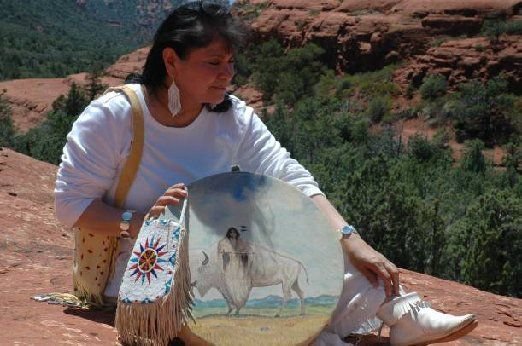 Billie Topa Tate' is the founder of MSI Healing INC an earth friendly educational institute located in Evanston, Illinois. Billie is Mescalero Apache and is dedicated to presenting the sacred principles, doctrines, and teachings of her Native Culture and many ancient wisdom systems from around the world, creating synthesis through harmony of many lineages.  She is dedicated to be of service to anyone who is seeking wellness, spiritual growth, mindfulness and training to build on current healing practices.  She has been offering services for over 25 years in the North Shore Evanston.
---
Energetic Eating| Facebook Video with Billie Topa Tate
Eating is a natural and healthy component to living life well. Eating for comfort or out of boredom currently plagues our culture producing a love-hate relationship with food. In this LIVE facebook broadcast, Billie Topa Tate will address the ancient methods of mindful eating to bring you to a stage of consuming a healthy amount of food and feeling great as a result!
In this video you will:
1. Learn the difference between mindful eating vs. dieting
2. Learn how to empower your food prior to eating
3. Learn how to eat with attention and intention
4. Learn specific foods to eat to increase fullness and health
Watch the LIVE Facebook Video, where I outline the steps to mindful eating.

So there you have a wonderful technique that will help you throughout the day. Namaste
Billie Topa Tate' is the founder of MSI (Mystical Sciences Institute) an earth friendly educational institute located in Evanston, Illinois. Billie is Mescalero Apache and is dedicated to presenting the sacred principles, doctrines, and teachings of her Native Culture and many ancient wisdom systems from around the world, creating synthesis through harmony of many lineages.
Billie is a traditional Native American healer and teacher of Mescalero Apache descent, trained and educated by numerous family Elders and extended family members. She is a Reiki Master Teacher Eighth Degree and licensed therapeutic massage therapist. Billie is an approved provider of continuing education programs for Massage Therapists and Illinois Nurses. Has written and lecturer extensively for more than 18 years. She is internationally recognized as a wonderful teacher, healer and advocate of Earth Friendly endeavors. Billie maintains a successful practice at her MSI center in Evanston, and with the expressed permission from her Native culture.
Learn more about Appointments with Billie Topa Tate by click here, https://msi-healing.com/healing
---
Sound Healing Technique's for the Feet
A Tuning Fork Technique for the Feet
Sound is an intricate part of our world. While you probably already provide soothing music or background sounds during your massage sessions, incorporating sound therapy, such as tuning fork therapy, into your sessions can add a serene, spa-like element to a massage and leave your clients feeling even more relaxed and rejuvenated.
My first experience with sound:
I have been fascinated with sound since I was a little girl. I recall my first experience regarding sound, during a quiet school morning. I rushed into my second-grade classroom and observed a blind man very intently using a tuning fork to tune our classroom piano. As I watched how he took an old, broken-down piano and turned it into a wonderful-sounding instrument, an interesting thought came into my mind: If he could fine-tune an old piano using sound, I was sure sound could fine-tune our bodies. Many practitioners use the power of these vibrations to create custom tuning fork techniques.
Sound and healing practices:
I am Native American, and as in many indigenous cultures, sound and nature are often incorporated into healing practices. The combination of my being Mescalero Apache and a massage therapist and instructor has given me the opportunity to develop wonderful techniques that utilize the healing properties of sound.
I have developed training courses for massage therapists and bodyworkers involving sound therapy using tuning forks. Basic training is required; check your state and local laws to be sure you meet the requirements before offering any sound therapy technique.
A tuning fork session for feet:
Sound therapy with tuning forks is very relaxing for clients and allows you to provide an easy, practitioner-friendly therapy to specific areas of the client's body. In a tuning fork session I designed for the feet, I focus on the sound of om, which is at frequency 136.1 hertz; I have found this sound to be successfully relaxing for my clients.
I start by using warm, moist towels to wrap the client's feet for a few minutes, to relax the feet. I cover one foot and massage the other foot, using a slow, sweeping stroke. I strike a tuning fork on a rubber striker, and using light pressure, place the tuning fork on the ball of the foot. I continue on the tips of the toes, starting with the big toe and working my way to the baby toe, striking the fork on the striker before applying it to each toe tip. Then, after striking the fork again, using light pressure, I finish the routine by placing the tuning fork on several points of the heel of the foot, working from the left of the heel to the right of the heel. I then cover that foot and begin on the other foot.
Getting trained in tuning fork therapy is one way to add a simple, unique offering to your menu of spa services.
About the Author
Billie Topa Tate is founder of the MSI Healing Wellness Center (msi-healing.com) in Evanston, Illinois, and an eighth-degree reiki master. She teaches at hospitals, cancer centers and universities. MSI is a National Certification Board for Therapeutic Massage & Bodywork-approved continuing education provider, teaching tuning fork training for the spine, face and feet, as well as other techniques.

---
How To Strengthen Your Digestive Fire | The Solar Plexus Chakra
The Solar Plexus Chakra, located between the navel and solar plexus, is the core of your personality, your identity and of your ego.   Your third chakra is linked to your stomach, abdomen, upper GI tract, liver, gallbladder, pancreas, kidney spleen, adrenal glands and the middle spine area behind your solar plexus.
The gift of this chakra is sensing your personal power, acting confident, responsible and reliable.
Chakra Challanege:
The energy of this chakra allows you to transform inertia into action and movement. It allows you to meet challenges and move forward in your life.
The main challenge for the third chakra is to use your personal power in a balanced manner.  This chakra is related to the element of fire. It has a connection with the sun, heat, the energy of light, vital energy, all forms of power.
Solar Plexus Chakra Color:
The Solar Plexus chakra is most commonly represented with the color yellow. Since it's associated with the element of fire, it is also sometimes depicted with the color yellowish red.
The Solar Plexus chakra is associated with the following psychological and behavioral functions:
Expression of the will
The "accounting mind" that categorizes and counts everything
Personal power
Establishing ideas and plans into reality
5 "I am statements" to clear the Solar the Plexus Chakra:
I am willing to release all my fears and struggles that have to do with power and control.
I am free.
I am peaceful with all the little things in life.
I am fulfilled.
I am balanced in all changes of cycles.
3 ways to heal or open the Solar Plexus Chakra:
Healing From The Color Yellow To Open the Third Chakra: "Yellow is the color of the third chakra" It is recommended to wear yellow and keep your surrounding yellow so as to help you heal or open the blocked solar plexus chakra or the blocked Manipura.
Simple Breathing Exercises and Meditations for Opening the Solar Plexus Chakra or Manipura Chakra: Meditation is the most effective way to open the blocked solar plexus. You need to close your eyes and imagine a yellow colored flower opening in the naval. You can also imagine a yellow burning flame or a glowing ball while meditating. A simple breathing exercise while meditating would help you have a strong effect in the opening of the blocked solar plexus chakra.
Your Intention Makes The Difference: While working towards the opening of the energy centers, you must have a strong and powerful intentions to heal for betterment. Before proceeding towards the steps for opening the chakra, you must at first set your intention to grow your self esteem, self confidence and get closer to your core self.