Native Mother's Day Blessing from Billie Topa Tate – Mescalero Apache
"Mothers are the center stone of the Medicine Wheel". – Billie Topa Tate – Mescalero Apache
Click below and join in the Mescalero Apache Mother's Day Blessing. Please share this your loved ones.
Warmest Greetings Wisdom Seekers,
Happy Mother's Day from our family to yours. Mothers are the center stone of the Medicine Wheel. Please join and together let us set the intention with this traditional drumming to honor Mother's Day and this wonderful energy we bring into the world. Also, for Mother Earth who is the great mother for all who walk the earth as well as the plant and animal kingdom. Join me and share this beautiful blessing with a loved one to continue to grow the vision of "Creating a Sacred Space One Person at a Time".
May we continue to do great things together,
Billie Topa Tate – Mescalero Apache
---
Gift Certificates Available Now! Click HERE for details…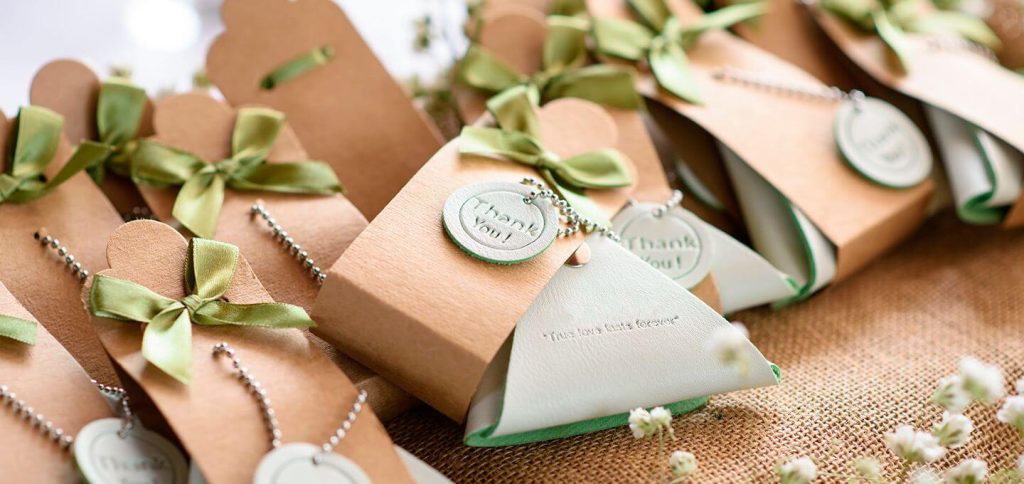 ---
Christmas Day 'Lift Our Spirits' Inspirations from Billie Topa Tate
Warm Greetings and Happy Holidays,
Celebrate new holiday rituals for the Holidays.  Our holiday can be filled with our beautiful intentions and also building new practices to enhance our holiday.  Infusing our holiday with a great energy to lift our spirit.  Christmas isn't canceled unless we decide it is.  Start new traditions by celebrating beautiful new holiday rituals for your family, however you define it.
Here's some things that I recommend for this holiday season …
Light a candle and let the day begin.  Always start your wonderful day by lifting our spirit and setting a beautiful intention for our day. Use a beautiful fragrance such as organic sweet grass, wild harvested cedar or beautiful Lemon Verbena.  Christmas morning get the magic started and light a beautiful pine scented candle and make a prayer for yourself and your family, just make sure not to leave it unattended and turn on some beautiful holiday music if you like.  Acknowledge that the day is a special one and the sparkling up your regular coffee or tea with whipped cream or mark the Christmas day with homemade beverage treats.
Share your special holiday foods – Enjoy a Grab & Go.  Make a wonderful Christmas meal and surprise a family member by dropping some off for them by the front door and then give them a call and let them know there is a surprise waiting for them at the front door. Some people are doing a "grab and go" which means everybody shares their favorite dessert or side meal and puts it in fun bags and friends pick it up at your front door and leave something for you
A Christmas Special Journal. Christmas Journal – Start a family or friend journal where everyone writes or send a text message regarding their wonderful intention or prayer for this Christmas holiday it's such a special thing to do and then have a family member or friend read it into a recording that everyone receives for the holidays.
Christmas lights in the neighborhood.  As dusk falls, take a walk around the neighborhood to see all the Christmas lights and enjoy the wonderful decorated trees through along the way. Bring your favorite beverage and enjoy seeing all the beautiful lights and decorations
Enjoy "A Christmas Carol" production.  Free from the Goodman theater, it's so special they took time to record the entire production and provided this production free this year. You can access it on their website and listen to it with family members sharing a wonderful production to launch your Christmas Eve and holiday
Festival light Drive Thru.  Do a drive-through with your car and your family to see the Holiday lights in various locations. Northbrook has a wonderful drive through holiday light show as well as Great America and many other local festive light drive throughs for your family this year. Reach out to Chamber of Commerce or Google local drive thru light festivals.
Enjoy a Family or Friend Video Gathering.   Do a video check-in with any loved ones or friends and open presents together, if that's a tradition that makes you feel good. Another easy way to connect with friends and extended family, you can host a group viewing of a classic holiday movie. The Teleparty app works with multiple streaming services, like Netflix and HBO Max (which is owned by AT&T's Warner Media, parent company of CNN), while Amazon, Disney+ and Hulu all have their own group-watching features for subscribers. Also to a company holiday movie watching create a nice bowl of your favorite popcorn with freshly grated Parmesan to enjoy the holiday season.
Remember, there are so many wonderful opportunities to have precious moments.  The universe has given us this time to enjoy and to value the time we have with our loved ones and ourselves. We wish you the most wonderful holiday and we look forward to seeing you soon.
Please join us on January 1st New Year's Day for our special zoom sacred predictions lecture.  We will be sharing most clairvoyant forecast for our beautiful new upcoming year.  Click HERE for all the great details and we look forward to seeing you.
Many blessings from our family to yours,
Billie Topa Tate – Mescalero Apache & Founder of MSI Wellness Center
Mama Little Wolf – Mescalero Apache & Loving Elder of MSI Wellness Center
Monique Little Doll – Mescalero Apache & Manager of MSI Wellness Center
---
Happy Thanksgiving Special Gifts from Billie Topa Tate – Mescalero Apache
Dearest Community Members,
Happy Thanksgiving to you and your loving family. Even though this holiday will look a little different, the energy of love, peace and blessings can surround us and our loved ones at all times.
Here are several gifts for you to experience and enjoy …
Your First Gift:  The language of "elevated conversation" which stimulates the energy of seeing ourselves at a higher empowering vantage and helps us enjoy conversation that bless our thoughts and energy in a whole new way. I don't know about you but 2020 caused some stress points which left many of us at a loss for words.
I was chatting with an associate recently when he asked me a very interesting question "where is your learning edge these days?" Which prompted me to talk about writing my books and learning a whole new language of technology platforms. I simply loved where our conversation went.
Here's some examples of elevated language that can guide conversations to wonderful directions this holiday season.
– What has inspired you these days?
– What new fun thing have you discovered recently?
– Can you give me some tips on how you get peace within your day
– Where are you finding your inspiration these days?
– What new things have you discovered that promoted some goodness in you?
– Have you explored your gifts during 2020?
Your Second Gift:  Our center is here to present the platform of wellness at all levels for you and your family.  Also, throughout the December month we offer you special discounts of handmade beautiful products – many in Native American tradition.  As I always say, we are a mystical place and also have a mystical store filled with special and very unique gifts for the holidays.
Your Third Gift:  In celebration of our friendship we wish to thank you by gifting you a day featuring a free personal Native healing blessing to clear away the stresses from 2020 and welcome new fresh energy for 2021 from Billie Topa Tate.  Also, a great holiday shopping experience of unique and wonderful gifts.  Join us for your free Native healing blessing on December 6th Sunday – reserve your time by calling MSI Wellness Center.  Click HERE for more details of this wonderful celebration of our friendship – more details to join us from anywhere around the world too! 
We welcome you to call MSI Wellness Center 847-866-0505 and secure time to privately come in to enjoy some fun shopping, beautiful holiday energy and have some fun elevated conversations as well.
Many blessings from our family to yours.
Wakan Tankan Nici Un
May The Great Spirit Walk With You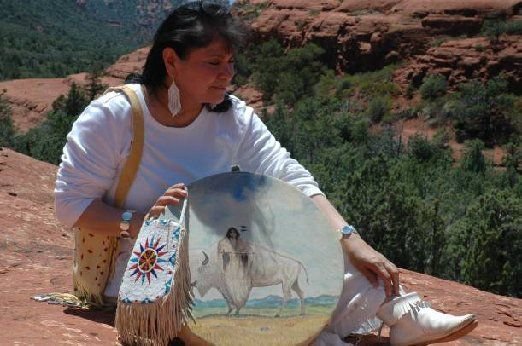 Billie Topa Tate- Founder
Mescalero Apache
msi-healing.com  847.866.0505
Native American Festive Holiday – Click HERE for details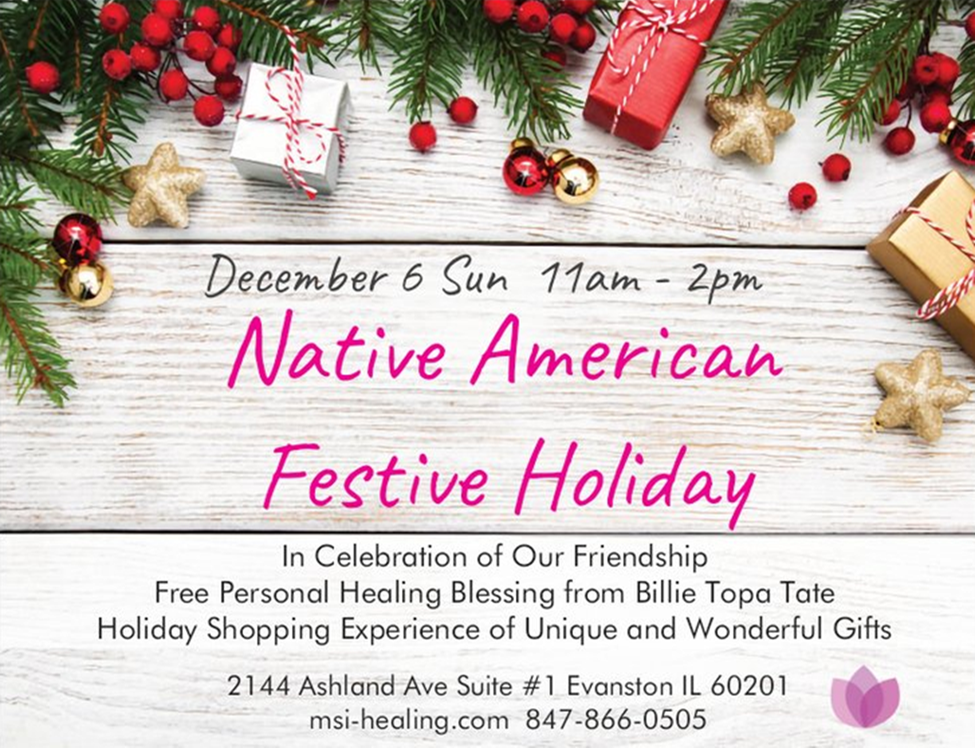 ---
Precious Qualities to Start Your Day | Free Guided Meditation by Billie Topa Tate
Warm Greetings Wisdom Seekers,
Happy Full Blue Moon – October 31st Saturday.
Grandmother Moon is a mystical symbol of inspiration and inspires us to look upon her wonderful energy and connect with her assistance for fresh new wisdom about what is happening in our lives today.  This full moon sends a message of achieving balance through wisdom and fresh energy.
In honor of the full moon we are gifting you a wonderful Precious Qualities Guided Meditation.
Click below to enjoy the meditation:
The intention of the this recording is to help bring wonderful energy into your day.  You can use this 7 minute guided meditation to help boost your energy and thoughts to a relaxing  and exquisite place.
The Full Moon is a time of culmination and the promise of fulfillment of that which was started at the New Moon. It is an emotional time – a time of romance, reflection and relationships.  The Moon in Taurus wants us to find emotional fulfillment through time honored things, tangible things in life, while the Scorpio Sun draws our attention to mysteries.  This is a passionate and creative Full Moon, ripe with possibilities and learning experiences. Intimate relationship matter, such as personal comfort levels and values.  Enjoy the free seven minute recording and please share with a friend as it is always good to share the light with others.
All good things to you,
Wakan Tankan Nici Un
May The Great Spirit Walk With You
Billie Topa Tate- Founder
Mescalero Apache
msi-healing.com 847.866.0505
About The Instructor: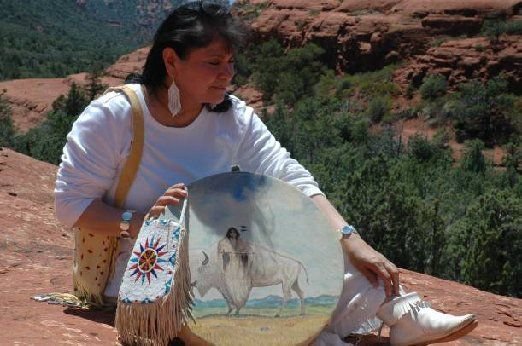 Billie Topa Tate' is the founder of MSI Healing INC an earth friendly educational institute located in Evanston, Illinois. Billie is Mescalero Apache and is dedicated to presenting the sacred principles, doctrines, and teachings of her Native Culture and many ancient wisdom systems from around the world, creating synthesis through harmony of many lineages.  She is dedicated to be of service to anyone who is seeking wellness, spiritual growth, mindfulness and training to build on current healing practices.  She has been offering services for over 25 years in the North Shore Evanston Community.
 To learn more about Billie Topa Tate and her services, click here
---
Self Care Energy Tools for COVID Protection by Billie Topa Tate – Mescalero Apache
Billie Topa Tate is providing some wonderful energy tools to assist all of us to use tools along side professional practices throughout our daily activities.  Enjoy her video and share it with everyone who wishes to add some great energy tools to their daily schedule.
List of Services at MSI Wellness Center:
Zoom Office Visit With Billie Topa Tate | $95
Those seeking guidance on their spiritual journey, as well as mentorship for practitioners.  People who are looking for alternative healing modalities to work in conjunction with western medicine will benefit from a personal visit with Billie Topa Tate.
Description: 1 hour energy session with Billie Topa Tate. May consist of a brief review on stress points the client is experiencing.   Energy treatments may include Reiki, Oncology Reiki (if applicable), Energy clearing and balancing, Native clearing of the energy field, Reiki Cranial Fascia, which releases any stagnation within the nervous system and refreshes the cranial and spinal rhythm thus enhancing the immunity system and creating peacefulness within the mind and body.
Distant Healing Sessions  | $95
Clients that would like assistance in self care or to support their loved ones.
Description: 1-hour Distant Healing Session consists of an energetic clearing of the energy field followed by an energetic report with all the categories Billie checks, such as the energetic field, chakras, meridians etc.  All clients receive the report in full via email for review.
Services by Billie Topa Tate
Billie Topa Tate is Mescalero Apache ( Native American ) and is the founder of The MSI Wellness Center located in Evanston, Illinois.   The Center was developed over 20 years ago to offer clients and students her expertise as a Native Teacher and Mentor.   Billie also offers energy based treatments, such as Reiki, Native Energy sessions, and Cranial Sacral therapy.
Billie, also provides her students and clients with indigenous wisdom on stress management, general wellness, meditation, energy-based clearing and balancing techniques and for her advanced students, the development of their intuition and energetic self-care.
Billie has developed extensive wisdom filled classes and training for the general public. She also provides specialized training and lectures for Hospitals, such as Rush University Hospital.  Billie has created training courses in Oncology at Specialized Hospitals, such as, The Cancer Treatment Center of America, Trauma Centers and has lectured for several years at Northwestern University to the Pre-medical division on Reiki and Indigenous wellness.
Billie has maintained her successful practice for over 20 years at MSI Wellness Center.  She is an 8th Degree Reiki Master Teacher, a certified massage therapist, cranial sacral graduate, meditation teacher and Native Elder – Mescalero Apache.   She has lectured and provides training for environmentally friendly efforts, meditation, yoga, and stress-related healing modalities.  Postponed till May  The Center also provides a wonderful free – open to the public meditation gathering every Friday from 6:30 pm – 8 pm. 
Call for questions and details 847.866.0505.  Appointments are offered Monday thru Friday 10:00am first apt. / 5:00pm final apt.
24 Hour Cancellation Policy.  Should you need to change or reschedule your scheduled appointment, Billie Topa Tate has requested a 24 hour notice policy.  If you call to reschedule or cancel your appointment under 24 hours notice you are subject to the full amount for each session.
Billie Topa Tate through her energy work and clairvoyance is providing me with significant relief of chronic and severe back pain and headaches. My daily pain is diminishing, and I felt so well after my last session that I felt like dancing.   I highly recommend her sessions for anyone in need of stress and pain relief.