Mantra to Promote a Healthy and Loving Way of Living
A long mystical time ago, there was a gift given to the world and the gift was healing energy.  This healing energy crosses the span of time and space.  This healing energy can be given out to everyone and everything by our intention and the power of our words.
The wonderful intention we have begins a formulation of healing energy and is further enhanced by the power of our words and the power of our thinking.   At times it can be very stressful in the world.  The gift we can give ourselves and others be it animal, plant, human or mother earth can be this wonderful gift of energy and the power of empowering words.
The Five Reiki Principles are guidelines that everyone can live by, to promote a healthy, loving way of living.
Mantra Suggested Instructions and Techniques…
Be in place of peace.
Listen to the recording below from Billie Topa Tate.
Repeat the mantra with Billie Topa Tate.   When you do so you are adjusting your aura to be in that place in time.
Say the words aloud.  Practice and you will become better at repeating them each time.
Are you ready?
About Billie Topa Tate: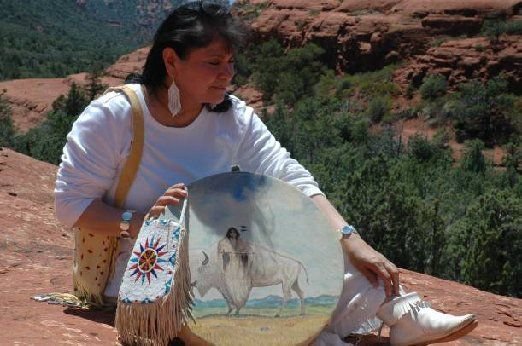 Billie Topa Tate' is the founder of MSI Healing INC an earth friendly educational institute located in Evanston, Illinois. Billie is Mescalero Apache and is dedicated to presenting the sacred principles, doctrines, and teachings of her Native Culture and many ancient wisdom systems from around the world, creating synthesis through harmony of many lineages.  She is dedicated to be of service to anyone who is seeking wellness, spiritual growth, mindfulness and training to build on current healing practices.  She has been offering services for over 25 years in the North Shore Evanston Community.
 To learn more about Billie Topa Tate and her services, click here