Happy Thanksgiving Special Gifts from Billie Topa Tate – Mescalero Apache
Dearest Community Members,
Happy Thanksgiving to you and your loving family. Even though this holiday will look a little different, the energy of love, peace and blessings can surround us and our loved ones at all times.
Here are several gifts for you to experience and enjoy …
Your First Gift:  The language of "elevated conversation" which stimulates the energy of seeing ourselves at a higher empowering vantage and helps us enjoy conversation that bless our thoughts and energy in a whole new way. I don't know about you but 2020 caused some stress points which left many of us at a loss for words.
I was chatting with an associate recently when he asked me a very interesting question "where is your learning edge these days?" Which prompted me to talk about writing my books and learning a whole new language of technology platforms. I simply loved where our conversation went.
Here's some examples of elevated language that can guide conversations to wonderful directions this holiday season.
– What has inspired you these days?
– What new fun thing have you discovered recently?
– Can you give me some tips on how you get peace within your day
– Where are you finding your inspiration these days?
– What new things have you discovered that promoted some goodness in you?
– Have you explored your gifts during 2020?
Your Second Gift:  Our center is here to present the platform of wellness at all levels for you and your family.  Also, throughout the December month we offer you special discounts of handmade beautiful products – many in Native American tradition.  As I always say, we are a mystical place and also have a mystical store filled with special and very unique gifts for the holidays.
Your Third Gift:  In celebration of our friendship we wish to thank you by gifting you a day featuring a free personal Native healing blessing to clear away the stresses from 2020 and welcome new fresh energy for 2021 from Billie Topa Tate.  Also, a great holiday shopping experience of unique and wonderful gifts.  Join us for your free Native healing blessing on December 6th Sunday – reserve your time by calling MSI Wellness Center.  Click HERE for more details of this wonderful celebration of our friendship – more details to join us from anywhere around the world too! 
We welcome you to call MSI Wellness Center 847-866-0505 and secure time to privately come in to enjoy some fun shopping, beautiful holiday energy and have some fun elevated conversations as well.
Many blessings from our family to yours.
Wakan Tankan Nici Un
May The Great Spirit Walk With You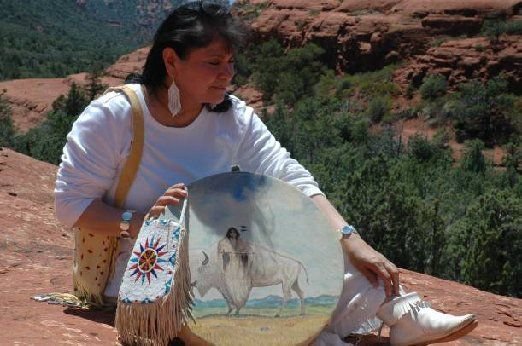 Billie Topa Tate- Founder
Mescalero Apache
msi-healing.com  847.866.0505
Native American Festive Holiday – Click HERE for details