Free Inner Peace Lecture & Guided Meditation Online Class
The Spirit of Inner Peace Lecture and Meditation is uniquely designed to help all of us be in a state of balance through the time honored Native Principles of our Mescalero Apache tradition. 
Indigenous Wellness comes from bringing all aspects of our personal energy to the healthy flow of mother nature and creating a deep connection through our sacred breath and sacred thoughts to influence our nervous system, our consciousness and other aspects of our well being.
The advanced techniques within this on-line recording can be used to activate a great sense of inner peace thus the name "The Spirit of Inner Peace." Thank you for sharing this sacred time with MSI Wellness Center and Billie Topa Tate.
Angels and Our Medicine Spirit:
The Mescalero Apache tradition shares Native teachings about your personal angels, guides, virtuous teachers in spirit and why and how they work with us. Included in this class is a unique native drumming song and teachings about how we can utilize our wisdom place called "The Medicine Spirit" throughout our daily living and also during stressful times.   Join this Thursday for the new class 'Angels and Our Medicine Spirit' July 2nd online zoom class 3pm – 4pm CST.  If you unable to attend at the time of the class you can secure your registration and receive the video the next day.  Click HERE to review the details of the class and secure your seat.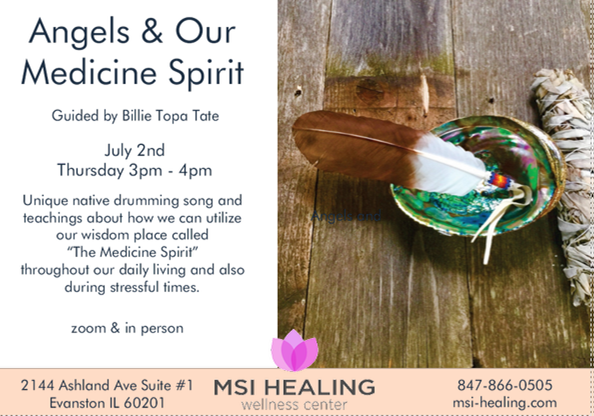 Meditation Teacher Training:
To continue your peaceful, mindful and educational journey, please visit our meditation teacher program or join us every Friday night for our free community meditation in our Evanston, Illinois wellness center.