Mindful Mystic – Free 5 minute Meditation Guided by Billie Topa Tate
Warmest Greetings Wisdom Keepers,
I look forward to the new positive experiences from our free five minute meditation.   I have used this meditation to access a powerful part of the mind and launch good energy for our daily journey. I would recommend that you use it in the morning as a quick meditation or right after your regular daily meditation practice. Also, keep the mind active and engaged by using gratitude for the time you are spending with that special part of your mind that can help you feel wonderful about yourself.
I welcome you to a brand new and exciting class "Connecting with the Power of Our Higher Self" this Thursday afternoon June 18th 3pm – 4pm CST.  There is a wonderful formula to creating our goals which provides great momentum and also creates a platform where our higher self and virtuous guides can help us.  Discover a place which cultivates a great sense of calm and higher purpose. Click HERE to secure your seat.
Enjoy the free 5 min meditation below and please join me this Thursday afternoon.  You can participate in person at our beautiful MSI Wellness Center (limited seats), online zoom or if you are unable to attend at the time of the class you can register and receive the recording.  We look forward to being of service to you and sharing in the traditions of the Indigenous culture.  Click HERE to secure your seat.
I look forward to hearing about the positive changes you begin to experience. I send you joy and happiness.
Wakan Tankan Nici Un
May The Great Spirit Walk With You
Billie Topa Tate- Founder
Mescalero Apache
msi-healing.com 847.866.0505
About The Instructor: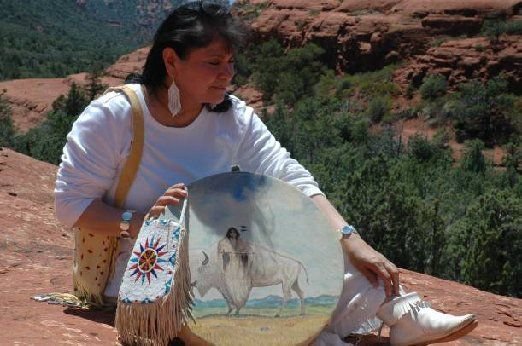 Billie Topa Tate' is the founder of MSI Healing INC an earth friendly educational institute located in Evanston, Illinois. Billie is Mescalero Apache and is dedicated to presenting the sacred principles, doctrines, and teachings of her Native Culture and many ancient wisdom systems from around the world, creating synthesis through harmony of many lineages.  She is dedicated to be of service to anyone who is seeking wellness, spiritual growth, mindfulness and training to build on current healing practices.  She has been offering services for over 25 years in the North Shore Evanston Community.
 To learn more about Billie Topa Tate and her services, click here