Indigenous Services by Billie Topa Tate – Founder of MSI Wellness Center
Billie Topa Tate is Mescalero Apache ( Native American ) and is the founder of The MSI Wellness Center located in Evanston, Illinois.   The Center was developed over 25 years ago to offer clients and students her expertise as a Native Teacher and Mentor.   Billie also offers energy based treatments, such as Reiki, Native Energy sessions, and Cranial Sacral therapy.
Billie, also provides her students and clients with indigenous wisdom on stress management, general wellness, meditation, energy-based clearing and balancing techniques and for her advanced students, the development of their intuition and energetic self-care.
About Your Visit
All visits consist of a general consultation to review client concerns and stress points, after which, Billie will provide her insights as a Native teacher and trained intuitive clairvoyant to speak from an energetic perspective. Billie will then work with you by providing personal techniques, insight, homework to facilitate happiness, healthy coping skills, and wellness for your life's journey.
List of Services at MSI Wellness Center
Zoom Sessions | $95 & In Person Sessions | $125
Those seeking guidance on their spiritual journey, as well as mentorship for practitioners. People who are looking for alternative healing modalities to work in conjunction with western medicine will benefit from a personal visit with Billie Topa Tate.
Description: 1 hour Table Session with Billie Topa Tate. May consist of a brief review on stress points the client is experiencing. Table Treatments may include Reiki, Oncology Reiki (if applicable), Energy clearing and balancing, Native clearing of the energy field, Reiki Cranial Fascia, which releases any stagnation within the nervous system and refreshes the cranial and spinal rhythm thus enhancing the immunity system and creating peacefulness within the mind and body. Billie can also provide reflexology, marma point therapy, and Ayurvedic head massage.
Zoom & Phone Consultations With Billie Topa Tate | $95
In office or telephone consultations are available for people that are unable to meet in person due to living far away, physical disabilities or those that need to accommodate the everyday busy schedule. Schedule from the comfort of your home, from a different time zone or even on your lunch break at work.
Description: 1-hour in office or telephone session provides you with an opportunity to ask questions regarding the stress and uncertainties of life's journey and receive insight from a Native Mentor.
---
Zoom Shamanic Journey | $95 & In-Person Shamanic Journey | $125
It's been said that a picture is worth a thousand words and the Shamanic journey of our spirit stepping into the beautiful world of energy is not only profound but healing.
Description: Imagine for a moment having a Sacred Intention and being launched into a sacred time  by the wonderful smell of sage, cedar and sweet grass.   Followed by the traditional drumming of Billie Topa Tate's Apache drum which has been used for many spirit journeys and sweat lodges.   Our spirit can travel to share sacred time with our guides, teachers in spirit and even our totem animals.   Journey and explore an exciting new experience of the spirit world.   Discover the freedom that our mind and body which can facilitate insights and healing through our spirit travel called shamanic journeying.    We launch the experience with a drum prayer, feather aura cleansing and sacred intention.
---
Call for questions and details 847.866.0505.  Appointments are offered Monday thru Friday 10:00am first apt. / 5:00pm final apt.
24 Hour Cancellation Policy. Should you need to change or reschedule your scheduled appointment, Billie Topa Tate has requested a 24 hour notice policy. If you call to reschedule or cancel your appointment under 24 hours notice you are subject to the full amount for each session.
"Billie Topa Tate through her energy work and clairvoyance is providing me with significant relief of chronic and severe back pain and headaches. My daily pain is diminishing, and I felt so well after my last session that I felt like dancing. I highly recommend her sessions for anyone in need of stress and pain relief."
---
Free Webcast – Plant Kingdom & The Shaman
| | Billie Topa Tate, Mescalero Apache, will share information about the Medicine Women and Medicine Men who were not only mystics for the tribal people, but also received teachings on the Plant Kingdom and many others. Click on the link below – August 19th Thursday at 7pm CST to enjoy. |
| --- | --- |
---
Good Karma Advanced Class | Billie Topa Tate – Mescalero Apache
Description:
Watch and participate with this Good Karma Advanced Class which will teach you how to share the enlightenment principles of karma. Help us raise the vibrational energy of the whole planet. Create better karma so that good things and people start to appear in your life.
Hone in on your body, mind & spirit's ability to create a circle of positive light and generate good karma
---
Services with Billie Topa Tate
Billie Topa Tate is Mescalero Apache ( Native American ) and is the founder of The MSI Wellness Center located in Evanston, Illinois.   The Center was developed over 25 years ago to offer clients and students her expertise as a Native Teacher and Mentor.   Topa Tate also offers energy based treatments, such as Reiki, Native Energy sessions, and Indigenous Mentorship.  Topa Tate will work with you by providing personal techniques, insights to facilitate happiness, healthy coping skills, and wellness for your life's journey. Call MSI Wellness Center 847-866-0505 to schedule your private session. Services by Billie Topa Tate
---
Join Billie Topa Tate for a live zoom class or join in-person.
Not able to join the class? Video recordings will be sent to all students the following day!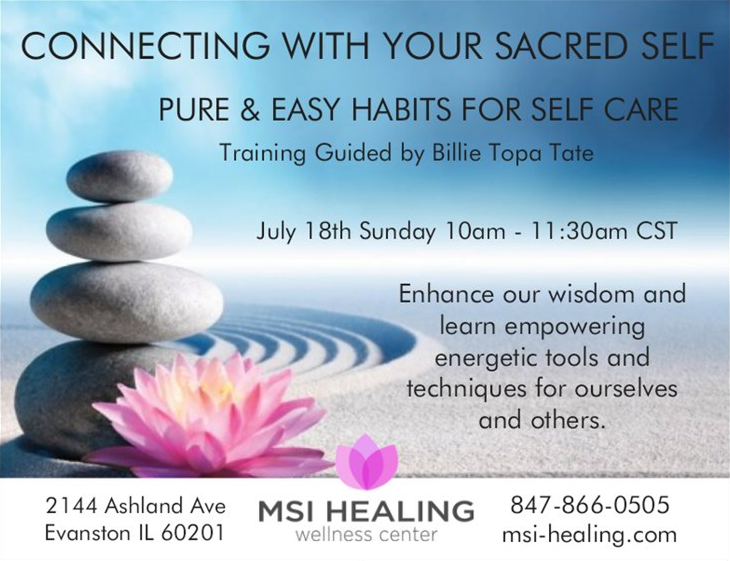 ---
The Ceremonies of the 1st New Moon by Billie Topa Tate
2021 New Moon January 12th Tuesday
Welcome to the first new moon of 2021 which marks beginnings and is a perfect time to launch a new project or idea. Excellent for laying the groundwork for what you want to manifest in the coming six months. Setting a wonderful sacred intention will initiate energetic plans to tend to for at least half the year.
Here are some wonderful ceremonies that were excerpts of my new book "The Smudging Ceremony" by Billie Topa Tate
1) Take time to clear your Energy field with a wonderful cleansing meditation.
2) At the end of the day take a little bit of cedar and smudge yourself with it to cleanse your aura from interacting with all the energy of the day.
3) take a nice walk around the block and blessed mother earth as you're walking during your nature walk.   Take time to turn off your phone for 10 minutes as you walk and just engage with nature on your short walk.
4) write some wonderful goals into your journal, if you've already done so please read them and review them and see how you can participate in manifesting them today
5) Do a light and general smudging. You are welcome to utilize any of the smudging categories and techniques in the book.  Afterwards, make a prayer that –  any stress, confusion and harmful energy  that might be  in your energy field and be removed by your virtuous helpers and taken for healing in the spirit world and fill you up with virtuous wisdom and virtuous  activities that are in line with your wonderful great purpose.
Have a great day and happy new moon.
Wakan Tankan Nici Un
May The Great Spirit Walk With You
Billie Topa Tate- Founder
Mescalero Apache
msi-healing.com 847.866.0505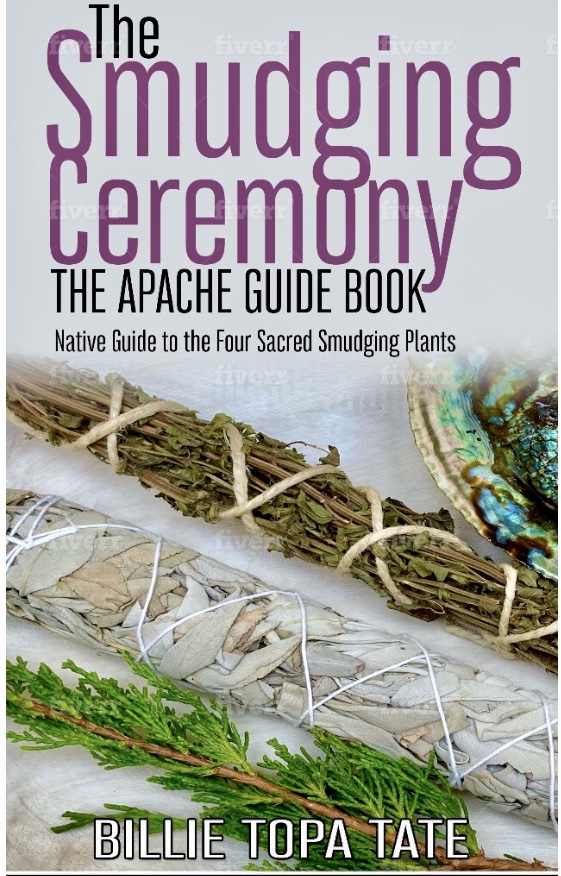 Call MSI Wellness Center for purchasing details – 847-866-0505!
About The Author: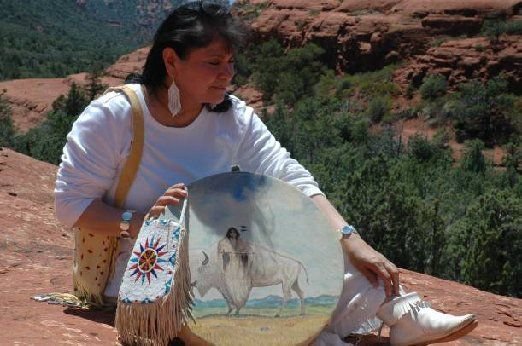 Billie Topa Tate' is the founder of MSI Healing INC an earth friendly educational institute located in Evanston, Illinois. Billie is Mescalero Apache and is dedicated to presenting the sacred principles, doctrines, and teachings of her Native Culture and many ancient wisdom systems from around the world, creating synthesis through harmony of many lineages.  She is dedicated to be of service to anyone who is seeking wellness, spiritual growth, mindfulness and training to build on current healing practices.  She has been offering services for over 25 years in the North Shore Evanston Community.
 To learn more about Billie Topa Tate and her services, click here
---
Christmas Day 'Lift Our Spirits' Inspirations by Billie Topa Tate
Warm Greetings and Happy Holidays,
Celebrate new holiday rituals for the Holidays.  Our holiday can be filled with our beautiful intentions and also building new practices to enhance our holiday.  Infusing our holiday with a great energy to lift our spirit.  Christmas isn't canceled unless we decide it is.  Start new traditions by celebrating beautiful new holiday rituals for your family, however you define it.
Here's some things that I recommend for this holiday season …
Light a candle and let the day begin.  Always start your wonderful day by lifting our spirit and setting a beautiful intention for our day. Use a beautiful fragrance such as organic sweet grass, wild harvested cedar or beautiful Lemon Verbena.  Christmas morning get the magic started and light a beautiful pine scented candle and make a prayer for yourself and your family, just make sure not to leave it unattended and turn on some beautiful holiday music if you like.  Acknowledge that the day is a special one and the sparkling up your regular coffee or tea with whipped cream or mark the Christmas day with homemade beverage treats.
Share your special holiday foods – Enjoy a Grab & Go.  Make a wonderful Christmas meal and surprise a family member by dropping some off for them by the front door and then give them a call and let them know there is a surprise waiting for them at the front door. Some people are doing a "grab and go" which means everybody shares their favorite dessert or side meal and puts it in fun bags and friends pick it up at your front door and leave something for you
A Christmas Special Journal. Christmas Journal – Start a family or friend journal where everyone writes or send a text message regarding their wonderful intention or prayer for this Christmas holiday it's such a special thing to do and then have a family member or friend read it into a recording that everyone receives for the holidays.
Christmas lights in the neighborhood.  As dusk falls, take a walk around the neighborhood to see all the Christmas lights and enjoy the wonderful decorated trees through along the way. Bring your favorite beverage and enjoy seeing all the beautiful lights and decorations
Enjoy "A Christmas Carol" production.  Free from the Goodman theater, it's so special they took time to record the entire production and provided this production free this year. You can access it on their website and listen to it with family members sharing a wonderful production to launch your Christmas Eve and holiday
Festival light Drive Thru.  Do a drive-through with your car and your family to see the Holiday lights in various locations. Northbrook has a wonderful drive through holiday light show as well as Great America and many other local festive light drive throughs for your family this year. Reach out to Chamber of Commerce or Google local drive thru light festivals.
Enjoy a Family or Friend Video Gathering.   Do a video check-in with any loved ones or friends and open presents together, if that's a tradition that makes you feel good. Another easy way to connect with friends and extended family, you can host a group viewing of a classic holiday movie. The Teleparty app works with multiple streaming services, like Netflix and HBO Max (which is owned by AT&T's Warner Media, parent company of CNN), while Amazon, Disney+ and Hulu all have their own group-watching features for subscribers. Also to a company holiday movie watching create a nice bowl of your favorite popcorn with freshly grated Parmesan to enjoy the holiday season.
Remember, there are so many wonderful opportunities to have precious moments.  The universe has given us this time to enjoy and to value the time we have with our loved ones and ourselves. We wish you the most wonderful holiday and we look forward to seeing you soon.
Please join us on January 1st New Year's Day for our special zoom sacred predictions lecture.  We will be sharing most clairvoyant forecast for our beautiful new upcoming year.  Click HERE for all the great details and we look forward to seeing you.
Many blessings from our family to yours,
Billie Topa Tate – Mescalero Apache & Founder of MSI Wellness Center
Mama Little Wolf – Mescalero Apache & Loving Elder of MSI Wellness Center
Monique Little Doll – Mescalero Apache & Manager of MSI Wellness Center