Interview with Chicago Meditation Expert Billie Topa Tate
In honor of National Meditation Month, we sat down with Billie Topa Tate, the founder of MSI and Mescalero Apache healer and teacher to learn more about her journey with meditation practices.
What inspired you to launch your meditation practice? 
When I was growing up I was around a lot of wonderful elders.  They were like gentle giants and the energy they carried was very dynamic. Their eyes demonstrated the peace and wisdom that they carried with them.    They spoke the story of their wisdom that inspired me to ask myself the question …"what are they doing to allow for this beautiful energy to flow through them?".
I would often see the elders meditating, being quiet in meditation for relatively short periods of time- approximately 30 minutes. Then they would come out of that meditation with great answers and peaceful demeanor's.   This led me to the meditation platform of connecting with the Creator,  my higher self, and all of my wonderful energetic resources which has extremely profound results.   Walking with our teachers during our meditation is absolutely a wonderful experience and gives an opportunity to ask the questions that need to be answered in our lives.  Not all meditations are created equal, you need to find the one that will benefit you the most.
When do you feel the most beneficial time is to meditate?
The most beneficial time to meditate is your power time and that is different for everyone.  Some people like to meditate in the morning and some in the evening.
I like to meditate early in the morning because it begins my day in a very powerful and profound way.   I would suggest people experiment observing which time of the day provides them with the most insight and positive energy.
Also meditation is most beneficial when we do it on a regular basis.  During a stressful time, when we have a pressing issue or an important question that needs to be answered – these are all ideal times.
Tell us your thoughts about being able to meditate while for example taking a walk vs in front of a meditation altar?
There are many meditation platforms that are available.   All of them have a common denominator, no matter if it's a walk in nature or sitting in front of meditation alter.   The common denominator is our breath and our intentions.  Our mind is a goal driven mechanism and launches us into the energetic platform of healing and resolution through the sacred balance of our peaceful breath and our sincere willingness for wisdom filled healing insights.
My teacher used to say, when you administer divine light into your body, the body will heal faster.  I took this teaching and I created a new meditation which is a short version of a very advanced meditation I have used for many years which facilitate beautiful light into all our organs.   I would recommend this meditation called "The Gift Of Inner Light" to all.  You can contact our office to purchase either the digital format or the CD
Namaste and Happy International Meditation Month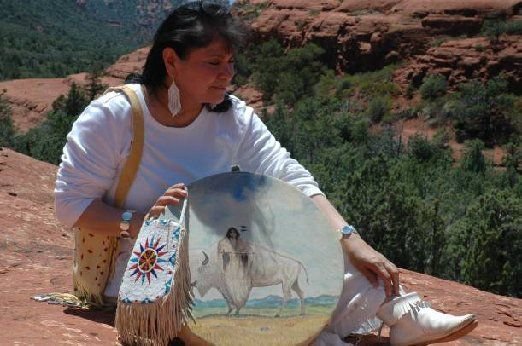 Billie Topa Tate is Mescalero Apache ( Native American ) and is the founder of The MSI Wellness Center located in Evanston, Illinois.   The Center was developed over 20 years ago to offer clients and students her expertise as a Native Teacher and Mentor.   Billie also offers energy based treatments, such as Reiki, Native Energy sessions, and Cranial Sacral therapy.
Billie, also provides her students and clients with indigenous wisdom on stress management, general wellness, meditation, energy-based clearing and balancing techniques and for her advanced students, the development of their intuition and energetic self-care.
Billie has developed extensive wisdom filled classes and training for the general public. She also provides specialized training and lectures for Hospitals, such as Rush University Hospital.  Billie has created training courses in Oncology at Specialized Hospitals, such as, The Cancer Treatment Center of America, Trauma Centers and has lectured for several years at Northwestern University to the Pre-medical division on Reiki and Indigenous wellness.
Billie has maintained her successful practice for over 20 years at MSI Wellness Center.  She is an 8th Degree Reiki Master Teacher, a certified massage therapist, cranial sacral graduate, meditation teacher and Native Elder – Mescalero Apache.   She has lectured and provides training for environmentally friendly efforts, meditation, yoga, and stress-related healing modalities.    The Center also provides a wonderful free – open to the public meditation gathering every Friday from 6:30 pm – 8 pm.
National Meditation Month
To see all our special weekly meditation offerings during the month of May, click here