Author:
MSI Wellness and Healing Center
Mantra to Promote a Healthy and Loving Way of Living
A long mystical time ago, there was a gift given to the world and the gift was healing energy.  This healing energy crosses the span of time and space.  This healing energy can be given out to everyone and everything by our intention and the power of our words.
The wonderful intention we have begins a formulation of healing energy and is further enhanced by the power of our words and the power of our thinking.   At times it can be very stressful in the world.  The gift we can give ourselves and others be it animal, plant, human or mother earth can be this wonderful gift of energy and the power of empowering words.
The Five Reiki Principles are guidelines that everyone can live by, to promote a healthy, loving way of living.
Mantra Suggested Instructions and Techniques…
Be in place of peace.
Listen to the recording below from Billie Topa Tate.
Repeat the mantra with Billie Topa Tate.   When you do so you are adjusting your aura to be in that place in time.
Say the words aloud.  Practice and you will become better at repeating them each time.
Are you ready?
About Billie Topa Tate: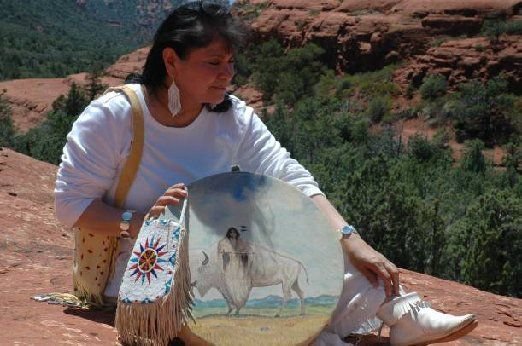 Billie Topa Tate' is the founder of MSI Healing INC an earth friendly educational institute located in Evanston, Illinois. Billie is Mescalero Apache and is dedicated to presenting the sacred principles, doctrines, and teachings of her Native Culture and many ancient wisdom systems from around the world, creating synthesis through harmony of many lineages.  She is dedicated to be of service to anyone who is seeking wellness, spiritual growth, mindfulness and training to build on current healing practices.  She has been offering services for over 25 years in the North Shore Evanston Community.
 To learn more about Billie Topa Tate and her services, click here
---
Free Meditation Mala Giveaway
This offer is for our kind customers who have purchased Billie Topa Tate's meditations, and have joined in our vision of  "Creating a Sacred Person One Person at a Time" at MSI Wellness Center.
How To Win:
Fun Interactive Opportunity!  Everything is going to video,  film a short video sharing how you enjoy and incorporate Billie Topa Tate's meditations into your practice.  Click here to see the library of downloadable Meditations.
Create a nice space at home or outside and make a short video for Billie Topa Tate. Create this quick and fun video, then email the video to info@msi-healing.com.
How again? Create a 2-5 minute video and share your wonderful meditation practice with any one of Billie Topa Tate's meditations.
When your video is ready… email the video to info@msi-healing.com
and you will be entered to win!  Easy!  Thank you!
About The Prize: 
Sacred Mala Bracelet handmade by Billie Topa Tate and blessed with Healing Energy.  Malas are worn for meditation or yoga to deepen your practice and as a reminder to keep your attention focused during your practice.   Malas can also be used to inspire you as you set your intentions.  Each stone has subtle properties which effect the subconscious of the mind.
We will announce the winner of our FREE MALA GIVEAWAY on Friday November 2, 2018! Please check our Facebook Page for the Announcement.
*US SHIPPING INCLUDED, FOR INTERNATIONAL WINNERS, WE WILL COLLECT INTERNATIONAL AIRMAIL FEE ONLY
MSI Healing INC reserve all rights of free video usage, thanks and good luck!!
---
International Day of Peace | Free Worldwide Meditation
Join Billie Topa Tate September 21st Friday in harmony with meditation on this wonderful day of opportunity to help lift the world and source the quality of peace through meditation.  The International Day of Peace ("Peace Day") is observed around the world each year on 21 September. Peace Day provides a globally shared date for all humanity to commit to Peace above all differences and to contribute to building a Culture of Peace.
A beautiful Apache story about the quantities of walking in a sacred manner…
A long time ago in a mystical land called Earth walked the people and the people were given gifts so they could enjoy Mother Earth and all the other kingdoms on Mother Earth. These most precious gifts were infused within our spirit and our consciousness. They allowed all forms of life to feel, have thought and do. For humanity this meant we could create our path of existence and wisdom. These gifts can be used in feeling and thought. The gifts of our thoughts, images and emotions launches our journey on a daily basis. Through these wonderful attributes -we walk this world. In the beginning of time as we know it, the creation formula of walking in a sacred way was given to the people. In quiet stillness 1 – 2 times a day for short periods of time would we experience peace but also, a time to be guided by higher thought and even send this wonderful energy to others.
The international day of peace is a great opportunity to relaunch the beautiful quality of peace and healing for everyone.   Let us all take time to be in the quiet stillness to send this powerful energy to everyone around the world.
Billie Topa Tate and MSI Wellness Center welcomes you Friday September 21st at 6:30pm in honor of International Day of Peace – MSI Wellness Center 2144 Ashland Ave Suite #1 Evanston IL 60201.  Call our center for details as we would love to hear from you – 847-866-0505
Meditation Across The World
Each and every person has reason to hope for peace and today we can create a sacred space for everyone and make a difference. It would be wonderful if everyone in the world would meditate to the Loving Kindness Meditation. We can do this with your loving help. Join Billie Topa Tate September 21st Friday worldwide in meditation by clicking below…
---
New Meditation by Billie Topa Tate | Gift of Inner Light
Are you looking to rejuvenate your practice or launch positive energy?
CHICAGO ILLINOIS – Billie Topa Tate announced the launch of her new meditation titled "Gift of Inner Light," open for purchase now at https://msi-healing.com/product/gift-inner-light-meditation.  This all-new, meditation experience was created from an advanced tradition handed down from many generations of Billie Topa Tate's native elders.  This meditation was designed to help participants bring light into our organs and helps remove emotional stagnation.
Gift of Inner Light Meditation
Guided by Billie Topa Tate
Mescalero Apache & Author of Loving Kindness Meditation
Welcome to the Meditation called "The Gift of Inner Light " this meditation is a beautiful opportunity to create a sacred and wonderful energy not only within ourselves but also through out the world. It is an advanced meditation technique achieving healing levels of awareness and using the gift of light to assist in developing peace, peace and perfect peace within our energy field, our consciousness, our physical body and every aspect of who we are. In this meditation we become a conduit of virtuous universal healing light thus cleansing our energy field and the energy field of others.
If you have the "gift of inner light" during your meditation, please do it on a daily basis to clean your energy field at all energetic levels.
Click here to learn more about the 'Gift of Inner Light Meditation'.

---
National Meditation Month | Free Community Events in Evanston and Chicago
May is National Meditation Month and MSI Wellness Center in Chicago is hosting a series of free community events to honor the wonderful celebration of meditation. If you've been wanting to meditate or if you've had a desire to do more meditation, this is the month to start. Enjoy a special spring ceremony, flower meditation, the inside story of meditation with Billie Topa Tate and so much more.
Join Us For Free Community Events at our Evanston Meditation Center
MAY 2018 Meditation Classes and Events in Chicago, Illinois
Spring Ceremony & Meditation – May 4th Friday 6:30pm
Welcome Wisdom Seekers – Your  Spring Equinox Free Event.  The dawning of The Spring Equinox is a beautiful launching of celebrations. festivals, ceremonies and onset intentions to breathe in the breath of life as mother earth launches the beginning of new energy, flowers and fresh opportunities.  
Spring Flower Medicine Meditation – May 11th Friday 6:30pm
The medicine of flowers is so uplifting, especially during this time of establishing balance and healing. This is a free open to the public community event hosted by MSI Wellness Center. Billie Topa Tate will be hosting a special meditation, facilitating an empowering and healing meditation with the medicine of flowers and herbs.
Share Meditation with a Friend – May 18th Friday 6:30pm
It's such good karma to bring a friend to the wonderful world of meditation.  Meditation is a great tool to be guided by higher thought and refresh our mind body and spirit.  Come join us for a beautiful meditation and also learn some special techniques on how to navigate positive energy to surround ourselves with great support systems and wonderful friends.
Worldwide Celebration of Meditation – May 25th Friday 6:30pm
The world is filled with such great potential and we have more options then we know.  World wide meditation is a powerful and empowering event where we can all come together to facilitate positive and peaceful energy for the plants, animals, people and mother earth.  As a global group of wisdom seekers around the world let us use this opportunity to help everyone experience moments of wisdom and loving energy.  Click the link and be connected with us to facilitate positive and empowering energy around the world.