Author:
MSI Wellness and Healing Center
How To Sharpen Your Sixth Sense | Third Eye Chakra
You see the physical world through your eyes and you also have the ability to see the spiritual world through your third eye, chakra. The third eye symbolizes an enlightened state of consciousness through which one can perceive the world.
It also helps us see clearly, both physically and psychically. It supports imagination, awareness of the subtle/energetic world, intuitive knowing, and inner vision. When you see something "with your mind's eye," you are seeing it with the Ajna chakra.
What is the Sixth-Chakra?
Sixth-chakra intuition and wisdom are universal and transcendent in nature. The 6th chakra, when highly developed, elevates consciousness and confers deep spiritual insight and awareness. Perception of non-ordinary reality may accompany this.
The third eye chakra is a main point for external life energy (prana, chi) to enter and be distributed to the other chakras. It is also a key to ongoing spiritual development. Thus, keeping it as clear and balanced as possible is very important.
How to use your third eye:
If you don't get enough source energy it will be quite hard for your to open your third eye. You can get an abundance of universal energy by meditating. When you meditate you get universal energy through your crown chakra into your whole body.  Click here to experience the Loving Kindness Meditation for free.
Cultivating your 6th chakra can help you:
think more clearly
have "vision"
develop your imagination
grasp the big picture
expand your consciousness and influence to non-ordinary planes
develop greater spiritual awareness and prepare for the next level of spiritual evolution.
Color of the Third Eye:
The third eye chakra is associated with the color indigo. Simply lighting this color of candle and relaxing while focusing on this chakra can bring it into balance. Also wearing indigo colored clothing or surrounding yourself with this color of flower can bring harmony within the chakra.
When you concentrate on your third eye area, you'll start feeling a tingling sensation or a slight pressure/vibration in that area. This always means that the third eye chakra is awakening, no matter how small pressure/vibration you're experiencing.
Positive Affirmation while Focusing on the 3rd Eye:
I can see and think clearly, I see that all is well in my world. I see of the solutions to situations in my life and make positive changes now! I am the creator of my reality and my dreams are coming true. I am one with the vibration of the Infinite potential of the Universe. 
Third Eye Chakra Affirmations:
I am in touch with my inner guidance.
I listen to my deepest wisdom.
I seek to understand and to learn from my life experiences.
I am wise, intuitive, and connected with my inner guide.
I nurture my spirit.
I listen to the wisdom of elders.
I trust my intuition.
I forgive the past and learn what was there for me to learn.
I forgive myself.
I love and accept myself.
I know that all is well in my world.
I am connected with the wisdom of the universe.
I am open to inspiration and bliss.
My life moves effortlessly.
I am at peace.
I am the source of my truth and my love.
---
How To Strengthen Your Digestive Fire | The Solar Plexus Chakra
The Solar Plexus Chakra, located between the navel and solar plexus, is the core of your personality, your identity and of your ego.   Your third chakra is linked to your stomach, abdomen, upper GI tract, liver, gallbladder, pancreas, kidney spleen, adrenal glands and the middle spine area behind your solar plexus.
The gift of this chakra is sensing your personal power, acting confident, responsible and reliable.
Chakra Challanege:
The energy of this chakra allows you to transform inertia into action and movement. It allows you to meet challenges and move forward in your life.
The main challenge for the third chakra is to use your personal power in a balanced manner.  This chakra is related to the element of fire. It has a connection with the sun, heat, the energy of light, vital energy, all forms of power.
Solar Plexus Chakra Color:
The Solar Plexus chakra is most commonly represented with the color yellow. Since it's associated with the element of fire, it is also sometimes depicted with the color yellowish red.
The Solar Plexus chakra is associated with the following psychological and behavioral functions:
Expression of the will
The "accounting mind" that categorizes and counts everything
Personal power
Establishing ideas and plans into reality
5 "I am statements" to clear the Solar the Plexus Chakra:
I am willing to release all my fears and struggles that have to do with power and control.
I am free.
I am peaceful with all the little things in life.
I am fulfilled.
I am balanced in all changes of cycles.
3 ways to heal or open the Solar Plexus Chakra:
Healing From The Color Yellow To Open the Third Chakra: "Yellow is the color of the third chakra" It is recommended to wear yellow and keep your surrounding yellow so as to help you heal or open the blocked solar plexus chakra or the blocked Manipura.
Simple Breathing Exercises and Meditations for Opening the Solar Plexus Chakra or Manipura Chakra: Meditation is the most effective way to open the blocked solar plexus. You need to close your eyes and imagine a yellow colored flower opening in the naval. You can also imagine a yellow burning flame or a glowing ball while meditating. A simple breathing exercise while meditating would help you have a strong effect in the opening of the blocked solar plexus chakra.
Your Intention Makes The Difference: While working towards the opening of the energy centers, you must have a strong and powerful intentions to heal for betterment. Before proceeding towards the steps for opening the chakra, you must at first set your intention to grow your self esteem, self confidence and get closer to your core self.
---
What is a Reiki Practitioner and what do they do?
Reiki is an ancient healing modality which allows the practitioner  to assist in bringing balance to the energy field (Aura) thereby allowing the physical body to begin healing in a natural way.
Reiki is a Universal Energy that has no time or space constraints and can be used to send healing to anyone, any time or anywhere.  Students are attuned to Reiki Symbols which add strength to the flow of reiki energy as the body's energy field regains balance.
YOUR AURA FIELD | KEEPING THE FREQUENCY HIGH 
Universal energy connects each of us to all that is around us. Every living being is connected to the universal energy and each one of us has our own unique frequency. Positive thoughts keep our frequency high, as well as leading a healthy lifestyle, allows you to have and keep a healthy frequency. Positive energy for example, being Happy or in Love is a way our frequencies reach a much higher level. When we live in a state of negativity, lack of exercise or by eating unhealthy food we lower our energetic frequencies. Another way to lower your frequency, is by using products with chemicals, drinking alcohol or taking drugs as choices do not allow the body to have high frequency.
Our life is a reflection of our inner and outer energy.  In other words our thoughts, what we do to and put into our physical body.  We are responsible for our energy frequency by the choices we make.
Here are 7 simple things that we can do to assist our energy field in keeping our frequency as high as possible:
 Try one of these at a time.   Integrate one into your day to day life and become aware of any changes that may occur.  Do this with love and patience for your body as it becomes safe with each new change.
BECOME AWARE OF YOUR BREATH AND BREATHING PATTERNS. 

  When you are anxious or fearful focus on expanding your breath.  Use an expansive breath to change an Old Pattern and begin a New Pattern.   Deep controlled breathing.   Awareness and Focus with patience. This is a great way to raise your energetic frequency.

BEGIN A MEDITATION PRACTICE.  Meditation just 15-20 minutes 3 to 5 times a week will make a significant change in your daily life and raise your energetic frequency.  Meditation is the practice of quieting and focusing the mind.  By sitting in a comfortable position, becoming aware of your breathing: slow, deep and rhythmic will allow for stress release as well as a feeling of great calm and peace.  The Timelessness is a wonderful 10 min. breath meditation, click here.

ADD EXERCISE TO YOU DAILY ROUTINE.  Walking for 20 to 30 minutes is a great way to start.  Or look for a class to join:  Yoga, Zumba whatever sounds fun to you. Enlist a family member of friend to accompany you.

GO OUT IN NATURE.  Take time to go to your favorite spot in nature: Beach, Park, Zoo, The Farm and use all your senses:  Sight, Smell, Hearing, Feelings, Tasting to raise your energetic frequency. You will find a sense of peacefulness and see the BEAUTY all around you.

FEED YOUR BODY NATURAL, ORGANIC, CHEMICAL FREE FOODS. 

Keep you frequency high by purchasing and consuming only natural, chemical free items.  This includes the food you put into your body and the daily items you use on your body. From the fruits and vegetables you eat to the perfume, soap, shampoo, toothpaste, deodorant, nail polish, makeup used on your body, just to name a few everyday items in our lives.

SEE LIFE'S BEAUTY AND ENJOY THE SMALL THINGS.  Our lives have become so busy and full with all sorts of activities.  You need to give yourself permission to take time to really enjoy life by slowing down.  Set aside all your stressful thoughts for a short time to renew you energy field and raise your frequency.  You will have a new calmer perspective when you return to your every day, everything will be waiting for you.

JOURNAL YOUR THOUGHTS AND FEELINGS.

Begin writing/typing your thoughts, feelings, questions, concerns, fears, hopes and dreams.  Do this without and judgment about what you write, just release the thoughts from your conscious mind.  As humans we judge ourselves and have self talk that can be negative.  When we become aware and release these thoughts our energetic frequency raises.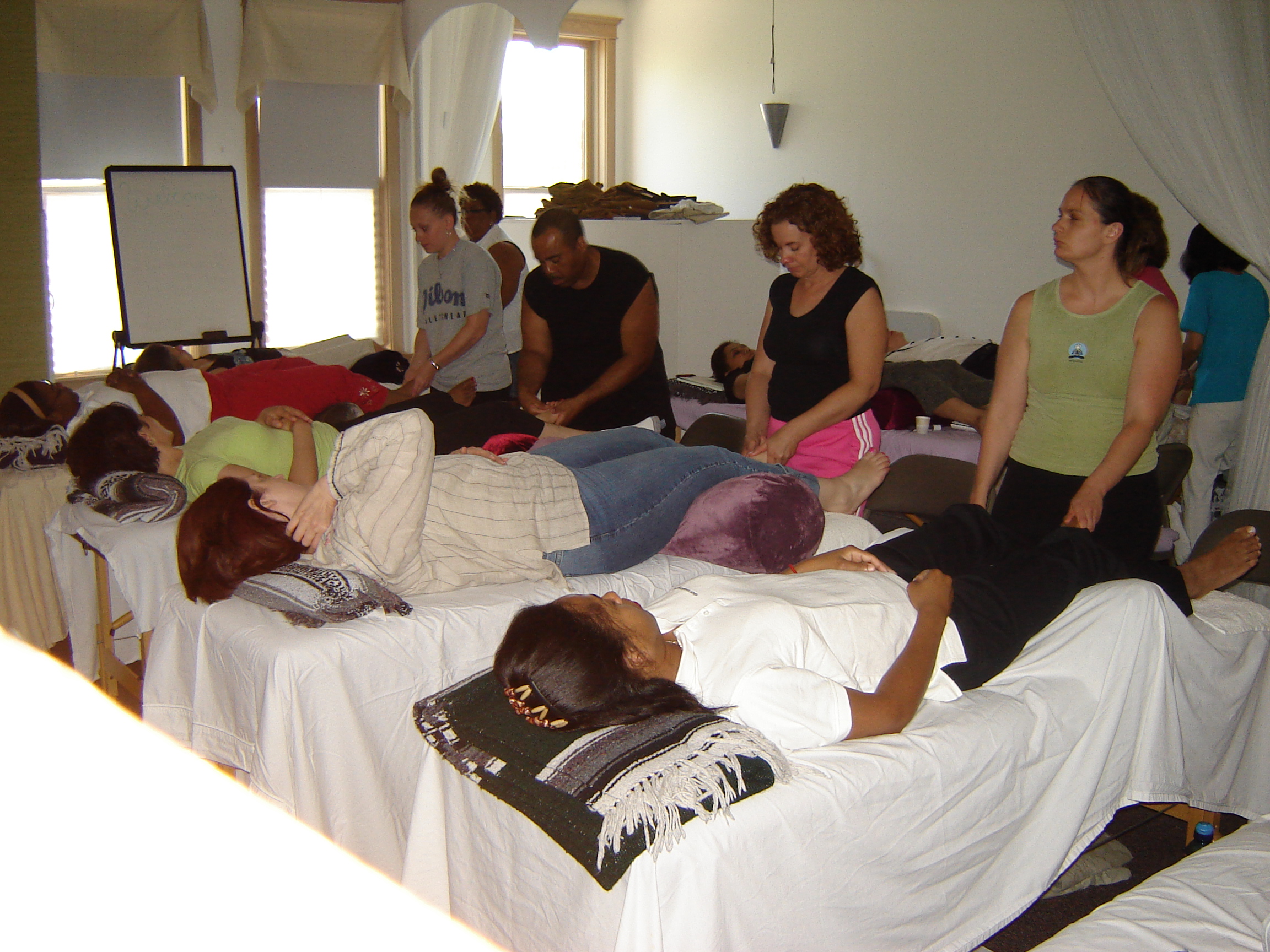 Bring Reiki into your practice for yourself, loved ones and clients.  This wonderful user friendly and beautiful Reiki training program is offered three times a year.  Click here to learn more about our upcoming training.  Also, one on one training is available if class dates do not fit your schedule.

---
Feng Shui Guidelines For Your Home, Office or Business
The Beautiful and Ancient System of Feng Shui has helped people harness universal forces and lead lives rich in good health, wealth and happiness.
Feng Shui practice can be applied to almost every facet of the living and working condition. It has to do with enhancing the energies of the surrounding environment as well as the immediate living and working space. It functions on the premise that if one lives- breathes, sleeps, sits, eats, and works – surrounded by healthy, vibrant energy, then one will be enveloped by an aura of good vibrations that attract excellent or healthy success.   On the other hand, if one is shrouded by bad energy or constrictive energy, the environment brings constrictive or unhealthy outcomes.
10 Feng Shui Guidelines For Your Home, Office or Business
Create a separation between the entrance foyer and the rest of the interior space. Transition time is needed from the exterior world into our homes.
Provide clear-cut pathways both within each room and from room to room. Distinct passageways make one fell secure.
Represent nature in your home with the five elements; water, fire, metal, wood, earth. These remind us of our connection to the whole earth and they nurture a sense of well-being.
Have important seating areas in your home facing windows that look east or south. Sunlight promotes optimism.
Arrange your bed so that you can see any person who enters the room without having to turn your head more than 45 degrees. You do not want to be startled when you are trying to relax.
Furnish your home with both yin lines (curved) and yang lines (straight). A combination of masculine and feminine lines will create balance.
Make provisions for both intense and soft lighting with in each room. Lighting can create appropriate atmospheres.
Separate the food preparation area from the front door. Kitchens too close to the front door invite overindulgence.
Use high chi colors like red, purple, fuchsia and russet judiciously in conversation areas. These colors can excite, aggravate and energize.
Keep your home in optimum condition. Your home's health mirrors your own.
Negative energy can linger anywhere – curtains, clothes, and people. Here is a perfect way to clear the icky feeling from whatever it is.  Also perfect to play in your child's room (or in a family/conference room) while they are away.
Continue to keep the energy in your home, office or children's room clean, clear and positive by using the:

---
FUN IN THE SUN | Vitamin D
As summer is fast approaching, I thought it would be a good idea to talk about a semi-controversial subject….the sun! Worshiped by Aztecs and later by extreme tanning
enthusiasts, the glowing orb that fuels our little planets energy systems, is a vital part of
the human body's well being.
I am not advocating exposing yourself continuously to the harsh UV rays of the sun until
your skin is either burnt to a crisp or cured as a leather, but what I am saying is that
sunlight in moderation is not only good for you, but necessary for optimal well-being.
How UVB Rays Are Good For You:
The UVB rays in the sun (the very same rays that cause sunburn) cause the body to
synthesize a certain chemical, that is present in the skin, into Vitamin D. Vitamin D
actually works in the body as a hormone. It helps the body with the absorption of
calcium and phosphorus. Vitamin D also helps protect the body from autoimmune and
certain female organ cancers. It also helps with mood regulation, one of the reasons
people often suffer from SADD is due to the lack of sunlight in the winter months.
Ways To Get Your Daily Vitamin D:
While there are many factors that prevent people from getting the vitamin D necessary
from the sun alone (sunscreen, fully covered in clothing, smog, etc), it is important to
accept this simple gift mother nature has to offer and try to spend 15 min a day in the
unfiltered light. For any deficiencies of vitamin D, there are lots of fortified foods and
supplements. If you are worried that you may be deficient in vitamin D, you can always
ask your doctor for a simple blood test to find out.
So get outside and enjoy the weather! And remember, the simplest sun protection,
comes from what you eat. Eat the rainbow, getting full antioxidant support to fight off
free radicals.
Upcoming Class: Intuitive Eating and Cravings July 26th Sunday 10-11:30am
Register early to receive 25% off  https://msi-healing.com/event-registration?ee=1079
About the Author:
Leslie Kemp, CHHC. I have been actively involved in the health and wellness industry for over 15 years. I graduated from The Desert Institute of the Healing Arts in 2000 as a massage therapist.  This journey led me to also study aromatherapy, Thai bodywork, and Reiki. In my quest for studying and sharing healing modalities the missing component in my tool belt seemed obvious.  Hippocrates said it best, "Let food be they medicine and medicine be thy food." So I attended the Institute of Integrative Nutrition. During my training, I studied over 100 different dietary theories, practical lifestyle management techniques, and innovative coaching methods with some of the world's top health and wellness experts.
I am a member of The International Association for Health Coaches. In my practice, I work with women who have lost their spark to help them get their sass back by empowering them to make lifestyle choices that will allow them to thrive.