Blog
Gratitude Gift | Prosperity Mantra
Your On-Line Gift  'The Lakshmi Mantra' by Billie Topa Tate
Lakshmi Mantra – is known to bring wealth, luxury, beauty, power, generosity and auspiciousness.  Goddess Lakshmi represents fortune, purity, and courage .  Billie Topa Tate personally chants this beautiful mantra which can be used to promote beauty and prosperity.
A mantra is a set of words which may appear to have an immediate meaning, however, when repeating the mantra, the energy of the words start to address the imprints of emotional energy that may be energetically charging our cells with a limitation or a unawareness.  By listening to or chanting this mantra we adjust our energy field to promote beauty and prosperity within our aura.
Instructions: The initial instructions regarding using this mantra is to say the mantra 2 – 3 times daily while you are doing something else.  The reason for this guideline is…  that part of our mind which involves reasoning might block the process of cleansing our cells of energetic emotions.   Therefore, if we do something else while we are saying the mantra, we are keeping that part of the mind busy and allowing the mantra to cleanse our energy field of a limitation or emotional imprint.
About the Author: Billie Topa Tate – Mescalero Apache and Founder of MSI Wellness Center in Evanston, Illinois.   During my training with my wonderful teachers, I have learned and utilize wisdom filled techniques such as, mantra and or affirmations.
Please enjoy this on-line recording as our gift to you for all your loving donations in support of Billie Topa Tate's Birthday this year. 
---
Interview with Chicago Meditation Expert Billie Topa Tate
In honor of National Meditation Month, we sat down with Billie Topa Tate, the founder of MSI and Mescalero Apache healer and teacher to learn more about her journey with meditation practices.
What inspired you to launch your meditation practice? 
When I was growing up I was around a lot of wonderful elders.  They were like gentle giants and the energy they carried was very dynamic. Their eyes demonstrated the peace and wisdom that they carried with them.    They spoke the story of their wisdom that inspired me to ask myself the question …"what are they doing to allow for this beautiful energy to flow through them?".
I would often see the elders meditating, being quiet in meditation for relatively short periods of time- approximately 30 minutes. Then they would come out of that meditation with great answers and peaceful demeanor's.   This led me to the meditation platform of connecting with the Creator,  my higher self, and all of my wonderful energetic resources which has extremely profound results.   Walking with our teachers during our meditation is absolutely a wonderful experience and gives an opportunity to ask the questions that need to be answered in our lives.  Not all meditations are created equal, you need to find the one that will benefit you the most.
When do you feel the most beneficial time is to meditate?
The most beneficial time to meditate is your power time and that is different for everyone.  Some people like to meditate in the morning and some in the evening.
I like to meditate early in the morning because it begins my day in a very powerful and profound way.   I would suggest people experiment observing which time of the day provides them with the most insight and positive energy.
Also meditation is most beneficial when we do it on a regular basis.  During a stressful time, when we have a pressing issue or an important question that needs to be answered – these are all ideal times.
Tell us your thoughts about being able to meditate while for example taking a walk vs in front of a meditation altar?
There are many meditation platforms that are available.   All of them have a common denominator, no matter if it's a walk in nature or sitting in front of meditation alter.   The common denominator is our breath and our intentions.  Our mind is a goal driven mechanism and launches us into the energetic platform of healing and resolution through the sacred balance of our peaceful breath and our sincere willingness for wisdom filled healing insights.
My teacher used to say, when you administer divine light into your body, the body will heal faster.  I took this teaching and I created a new meditation which is a short version of a very advanced meditation I have used for many years which facilitate beautiful light into all our organs.   I would recommend this meditation called "The Gift Of Inner Light" to all.  You can contact our office to purchase either the digital format or the CD
Namaste and Happy International Meditation Month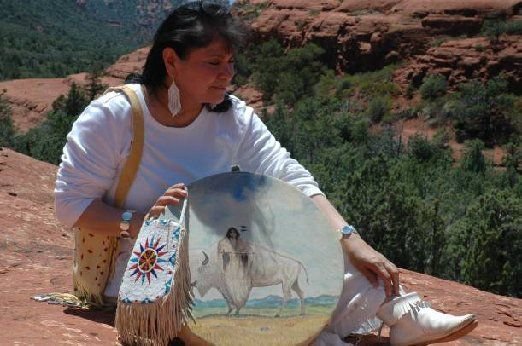 Billie Topa Tate is Mescalero Apache ( Native American ) and is the founder of The MSI Wellness Center located in Evanston, Illinois.   The Center was developed over 20 years ago to offer clients and students her expertise as a Native Teacher and Mentor.   Billie also offers energy based treatments, such as Reiki, Native Energy sessions, and Cranial Sacral therapy.
Billie, also provides her students and clients with indigenous wisdom on stress management, general wellness, meditation, energy-based clearing and balancing techniques and for her advanced students, the development of their intuition and energetic self-care.
Billie has developed extensive wisdom filled classes and training for the general public. She also provides specialized training and lectures for Hospitals, such as Rush University Hospital.  Billie has created training courses in Oncology at Specialized Hospitals, such as, The Cancer Treatment Center of America, Trauma Centers and has lectured for several years at Northwestern University to the Pre-medical division on Reiki and Indigenous wellness.
Billie has maintained her successful practice for over 20 years at MSI Wellness Center.  She is an 8th Degree Reiki Master Teacher, a certified massage therapist, cranial sacral graduate, meditation teacher and Native Elder – Mescalero Apache.   She has lectured and provides training for environmentally friendly efforts, meditation, yoga, and stress-related healing modalities.    The Center also provides a wonderful free – open to the public meditation gathering every Friday from 6:30 pm – 8 pm.
National Meditation Month
To see all our special weekly meditation offerings during the month of May, click here
---
New Meditation by Billie Topa Tate | Gift of Inner Light
Are you looking to rejuvenate your practice or launch positive energy?
CHICAGO ILLINOIS – Billie Topa Tate announced the launch of her new meditation titled "Gift of Inner Light," open for purchase now at https://msi-healing.com/product/gift-inner-light-meditation.  This all-new, meditation experience was created from an advanced tradition handed down from many generations of Billie Topa Tate's native elders.  This meditation was designed to help participants bring light into our organs and helps remove emotional stagnation.
Gift of Inner Light Meditation
Guided by Billie Topa Tate
Mescalero Apache & Author of Loving Kindness Meditation
Welcome to the Meditation called "The Gift of Inner Light " this meditation is a beautiful opportunity to create a sacred and wonderful energy not only within ourselves but also through out the world. It is an advanced meditation technique achieving healing levels of awareness and using the gift of light to assist in developing peace, peace and perfect peace within our energy field, our consciousness, our physical body and every aspect of who we are. In this meditation we become a conduit of virtuous universal healing light thus cleansing our energy field and the energy field of others.
If you have the "gift of inner light" during your meditation, please do it on a daily basis to clean your energy field at all energetic levels.
Click here to learn more about the 'Gift of Inner Light Meditation'.

---
National Meditation Month | Free Community Events in Evanston and Chicago
May is National Meditation Month and MSI Wellness Center in Chicago is hosting a series of free community events to honor the wonderful celebration of meditation. If you've been wanting to meditate or if you've had a desire to do more meditation, this is the month to start. Enjoy a special spring ceremony, flower meditation, the inside story of meditation with Billie Topa Tate and so much more.
Join Us For Free Community Events at our Evanston Meditation Center
MAY 2018 Meditation Classes and Events in Chicago, Illinois
Spring Ceremony & Meditation – May 4th Friday 6:30pm
Welcome Wisdom Seekers – Your  Spring Equinox Free Event.  The dawning of The Spring Equinox is a beautiful launching of celebrations. festivals, ceremonies and onset intentions to breathe in the breath of life as mother earth launches the beginning of new energy, flowers and fresh opportunities.  
Spring Flower Medicine Meditation – May 11th Friday 6:30pm
The medicine of flowers is so uplifting, especially during this time of establishing balance and healing. This is a free open to the public community event hosted by MSI Wellness Center. Billie Topa Tate will be hosting a special meditation, facilitating an empowering and healing meditation with the medicine of flowers and herbs.
Share Meditation with a Friend – May 18th Friday 6:30pm
It's such good karma to bring a friend to the wonderful world of meditation.  Meditation is a great tool to be guided by higher thought and refresh our mind body and spirit.  Come join us for a beautiful meditation and also learn some special techniques on how to navigate positive energy to surround ourselves with great support systems and wonderful friends.
Worldwide Celebration of Meditation – May 25th Friday 6:30pm
The world is filled with such great potential and we have more options then we know.  World wide meditation is a powerful and empowering event where we can all come together to facilitate positive and peaceful energy for the plants, animals, people and mother earth.  As a global group of wisdom seekers around the world let us use this opportunity to help everyone experience moments of wisdom and loving energy.  Click the link and be connected with us to facilitate positive and empowering energy around the world.
---
National Meditation Month | What are the Yamas and Niyamas
"Keep your thoughts sacred, and your world will become sacred.  It's the quiet place inside where you return over and over again which nurtures  your thoughts sacred, your heart expanded and your dreams alive.   Meditation helps you to create your sacred place."
-Billie Topa Tate
The Practice of The Yamas and The Niyamas in Meditation:
The practice of the Yamas and Niyamas definitely inspires us to remember that meditation is a way of life — not just something we do for 20 minutes three times a week.  In fact, if they are interwoven in every fabric of our life.
The Power of Yama – Control
Yama is a process by which the actions of the body and the functions of the mind are volitionally restrained. It purifies one's words, thoughts, and deeds, enabling the aspirant to reach the deeper aspect of his or her own self that remains dormant in an undisciplined life. Through the practice of yama, an unknown inner power is experienced, because the body becomes quiescent and the mind becomes tranquil and able to function better.
The 10 Yamas:
1. Non-Violence
2. Truth
3. Honesty
4. Sexual Continence
5. Forbearance
6. Fortitude
7. Kindness
8. Straight-Forwardness
9. Moderation in Diet
10. Purity (Bodily Cleansing)
The Power of The Niyama – Golden Rules of Contact
After following the yamas, one will be able to follow effortlessly the rules of conduct, thus enhancing the development of one's spiritual nature that makes one harmless, selfless, friendly, loving, and respectful to all creation, from mineral to man.
The 10 Niyamas:
1. Austerity
2. Contentment
3. Belief in God
4. Charity
5. Worship of God in any form
6. Openness and constant study by reading or listening to explanations of teachings or doctrines and scriptures
7. Modesty
8. Having a discerning mind
9. Repetition of payers
10. Observance of vows and performing sacrifices
Join us, each week for our Free Friday Night Community Meditation.  Click here for more information. 
National Meditation Month
To see all our special weekly meditation offerings during the month of May, click here