Billie Topa Tate Returns from Ceremony in Sacred Lands
Billie Topa Tate returns from the Sacred Lands of Arizona.  She has prepared a special message for you.  Enjoy, watch, listen and feel the wonderful energy from her Spirit Journey.
Personal Shamanic Journey Guided by Billie Topa Tate
It's been said that a picture is worth a thousand words and the Shamanic journey of our spirit stepping into the beautiful world of energy is not only profound but healing.
Description: Imagine for a moment having a Sacred Intention and being launched into a sacred time  by the wonderful smell of sage, cedar and sweet grass.   Followed by the traditional drumming of Billie Topa Tate's Apache drum which has been used for many spirit journeys and sweat lodges.   Our spirit can travel to share sacred time with our guides, teachers in spirit and even our totem animals.   Journey and explore an exciting new experience of the spirit world.   Discover the freedom that our mind and body which can facilitate insights and healing through our spirit travel called shamanic journeying.    We launch the experience with a drum prayer, feather aura cleansing and sacred intention.
Click here to read about Billie Topa Tate's services.  Call MSI Wellness Center for details, 847-866-0505
Free Full Harvest Moon Community Meditation 
Join Billie Topa Tate this Friday September 13th for a Special Full Harvest Moon Meditation at 6:30pm.  Free group guided meditation for peace, mindfulness and relaxation is open to the public and welcomes you to you bring a friend.  Special FREE SEDONA GIFTS  will be given to each guest.  She collected small stones blessed with the spirit of earth, water and air.  Click here for more details about the Free Community Meditation.
Meditation Across The World
Each and every person has reason to hope for peace and today we can create a sacred space for everyone and make a difference. It would be wonderful if everyone in the world would meditate to the Loving Kindness Meditation. We can do this with your loving help.  Enjoy a free online Loving Kindness Meditation by clicking below – many blessings.
---
How to Meditate in Emergencies by Billie Topa Tate
Dear Busy Mystic,
It all begins with a our daily schedule… In addition to our daily projects we may encounter a crisis or stressful event that surprises us and takes us off our center.
Today, I will share with you a wonderful short burst change to integrate into our busy schedule. Stress slowly creeps up on us and we find ourselves emotionally stressed, and sometimes we encounter a crisis.
During these difficult times of stress we often forget self care practices. It is very important to find ways of using energetic techniques to intervene and provide opportunities for not only self care but wisdom filled practices.  This will help our body and mind to stay in a more productive place and strive for happiness and peace.
Today you'll find that these simple techniques will help you to be in a more productive and peaceful place when crisis occurs.
Just as a point of information – practicing meditation on a daily basis anchors and promotes a wisdom filled breath that helps us to be more present, wise and peaceful even under the most stressful conditions.
Here are some great techniques to use to quickly go into a more peaceful place during crisis, trauma and stressful activities.
1) The Panic Diffuser 
One of the most simple and powerful techniques used by advanced meditation practitioners is known as the panic and or worry diffuser. This is also sometimes referred to as the thought and emotion stopping technique.
First, if you find that you're going into panic during a crisis – do the following – sharply say to your mind "STOP". Use a very loud internal voice so that your mind sees you mean business. If it's possible and you are by yourself , say it out loud.  After you say "STOP". focus on your breath. Breathe in through your nose and then release the breath through the mouth ( this will relieve the tension ) relax your shoulders and then breathe in through your nose slowly as if you are at the ocean and as you exhale- exhale slowly through the mouth while relaxing your jaw, your shoulders, your neck and your spine. Continue the breath and now breathe in and out of your nose.
Once you have calm down and can think more productively, continue what you're doing by moving calmly to tend to whatever needs to be done.
2) Heart Center Intervention
Your heart center has a vibration that will help you during the times of emergencies and crisis. This technique is simple and powerful and will help you even when you're trying to get projects done.
Place your less predominate hand on the middle of your chest focusing on your heart if you like you can place both hands one on top of the other on the heart center. The next thing is allow for your breath to shift into the heart imagining healing light coming from your heart and emanating out from the chest into the entire body. Focus on the heart center like a sphere of light. Let it emanate out to the entire body as you do this allow for the breath to come in through your nose then exhale through your mouth a couple of times and then coming back to a few moments of syncing your breath with the rhythm of a peaceful soft slow beat of your heart.  Inhaling and exhaling through your nose.
As you calm down invoke to have wisdom as you move forward to resolve whatever is in front of you
These are wonderful tools to help you during an emergency or crisis. Remaining calm and centered is the most important energy for any crisis or stressful situation.
An interesting point here is that police officers, nurses, paramedics and firefighters all prepare very well for a crisis so when a crisis comes they know what to do. This is very much like your meditation practice. If we meditate every day we will go into that sacred breath that will allow us to do what we need to do but not in a stressful way.
I wish you peace and that you follow the integrity of your divine light.
You're welcome to schedule a session with me if you need additional assistance, guidance or join us for one of our wonderful energetic classes to help you on your beautiful journey which we call life.  Click here to learn more about one on one sessions with me, https://msi-healing.com/healing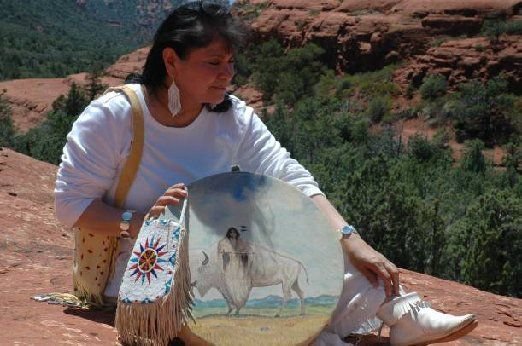 All Good Things To You and Many Blessings,
Billie Topa Tate
---
Free Mantra Wellness Techniques by Billie Topa Tate
MANTRA WELLNESS TECHNIQUES by Billie Topa Tate
During my mystical journey of learning how energy works and how our mind, body and spirit uses energy, I came across mantra's and energy tools to stay focused.  This would infuse my energy by not allowing my mind to lead me down a stressful and depleted thought path which robs us all of vitality and meaningful focus.
Today, I'd like to introduce you to what I call "Mantra Wellness".   The word Mantra typically means a tool to focus the mind.  Mantra's  are also a set of words that are repeated with simple variations of breath that helps the mind shift a thought process to a higher vibration thus freeing us of a overwhelming idea that we are either feeling emotionally exhausted or somehow losing our vitality.
There are so many ways of using mantra.  You do not have to sit and take long periods of time to say a mantra.  These days we are very busy mystics and I have found that a meaningful string of words can shift of breath, thinking and reboot our nervous system.  Which helps us take the plunge of getting things done while still achieving balance during our daily activities.   I like to say… "Find Your Balance – Find Your Peace"
Here are some Mantra's you can use to achieve oneness with peace and wisdom…
When you feel like you have lost your harmony and peace
Mantra: "I place in my mind what I would like to see and this will set it in motion, because everything is energy and energy follows thought"
When you feel that someone in your life is not adding value
Mantra: "I will set my energetic boundaries within my mind to create what I feel I need in the quality of honor and wisdom, and this will be my anchor to manifest my new tools"
When you feel overwhelmed and rushed with a project or task
Mantra: " I have the time I need to do this project because time and space will be launched through my breath and my thoughts, my breath will be filled with grace and wisdom"
A general and powerful mantra that can be used in most situations is
Mantra: Om Shanti Shanti, Om Shanti Shanti, Om Shanti Shanti.   Use your breath like you are smelling a wonderful fragrant flower which helps sweeten the mantra
These mantras will help you relax your mind, body, spirit and find your sacred balance and also build stress resilience.
I look forward to hearing about your progress and remember "Find Your Balance – Find Your Peace."
All Good Things to You,
Wakan Tankan Nici Un
May The Great Spirit Walk With You
Billie Topa Tate– Founder
Mescalero Apache
msi-healing.com 847.866.0505
Billie Topa Tate is a traditional Native American healer and teacher of Mescalero Apache descent, trained and educated by numerous family Elders and extended family members. She is a Reiki Master Teacher Eighth Degree and licensed Therapeutic Massage Therapist. Billie is an approved provider of continuing education and meditation programs for; Meditation Teachers, Massage Therapists and Illinois Nurses. Billie Topa Tate has written and lectured extensively for more than 18 years. She is internationally recognized as a respected teacher, healer and advocate of Earth Friendly endeavors. Billie maintains a successful practice at her MSI center in Evanston, and with the expressed permission from her Native culture, Billie shares many of the ancestral principles, healing systems and native wisdom's with her students and clients.
---
Lunar Eclipse & Full Moon Free Guided Meditation
Happy Lunar Eclipse & Full Moon in the sign of Capricorn.  This time is pressing us to look more closely at the needs and wants in our lives regarding our private lives, our need for a home base, and nurturance (represented by the Sun in Cancer).  These aspects versus our public lives, careers, reputation, and accountability (represented by the Sun's opposition to the Moon in Capricorn).
This is a good time for gentle cleanses, gentle detoxing of body, mind and spirit. You are welcome to use our free meditation on our website for a gentle energy cleanse called the loving kindness meditation. Also, because of all the eclipses this month we have a heightened awareness of the inner workings of our lives, particularly in our career and our home and family.  Decisions made now may be emotionally driven, that is why mediation is so important.
This Lunar Eclipse occurs when the Moon is aligned with Pluto and is powerful and complicated at once. The need to take action might feel urgent, but it's better to adopt a wait and see approach since there is quite a bit of exaggeration energy at the time of the eclipse.
Free Community Meditation
Our Evanston, Illinois Wellness and Meditation Center offers a free group guided meditation for peace, mindfulness and relaxation every Friday at 6:30pm – 7:30pm.  We have been providing this free community event in the Chicago area for over 19 years.  You are welcome to drop in as no registration is required and all of the supplies are provided.  We begin with gentle breathing techniques followed by short Native American drumming into the guided meditation. Click here for more information.
Meditation Across The World
Our Loving Kindness goal is to provide everyone in the world an opportunity to meditate to the Loving Kindness Meditation and its working!!! We receive telephone calls from people all over the world from South Africa, Argentina, Britain, New Zealand, and Sweden and everywhere in the United States.  Our growing project is truly helping create a world filled with compassion. Click below to enjoy the Loving Kindness Meditation from anywhere around the world…
---
Morning Native Drumming Sacred Intention with Billie Topa Tate
Native Americans were taught that our consciousness was a gift from the Creator which can manifest energy for our future, present and past, as well as, channel energy even to create harmonious pathways when we travel the desert and created sacred spaces, also transformed regions.
Simple Steps to Creating a Sacred Intention…
Sanction a quiet moment

–

  Take time to sanction a quiet time for you to totally focus on your expressed desire ( sacred intention ), this could be 5- 10 minutes or as long a 30 minr depending upon the depth of the sacred intention.

Create a mindful wisdom filled expressed desire

– option to write down your sacred intention.  This step is about either writing down your sacred intention or formulated your thoughts, images and emotions about what you are asking for.

Expression of divine love

– Think of a time when wonderful friend, teacher or even a loving companion animal has touched your life and has spent precious time with you. During these thoughts, images and feelings, experience divine love.
FEATURED OFFERINGS WITH BILLIE TOPA TATE
7-14 After Life of Companion Animals Class with Billie Topa Tate
7-21 Mastery of Dreams Class with Billie Topa Tate
7-21 Practitioner of Light with Billie Topa Tate
2019 Special Invitation New Offerings
7-27 Chakra Cleaning Class with Chris Allaun
7-28 Native Angel Medicine Class Billie Topa Tate & Chris Allaun
8-4 Native Guide to the Spirit World with Billie Topa Tate
8-10 Introduction to EFT & Wellness Workshop with Steve Shields
8-11 Lost Teachings of Reiki with Billie Topa Tate
8-18 Energy Based Healing Training with Chris Allaun
8-25 Crystals for the Goddess – Stones for the Divine Feminine with Billie
9-8 Reiki Master Level I with Billie Topa Tate ( 9-8, 9-15)
9-14 Meditation Practitioner Training with Chris Allaun
9-22 Native Guide to Akashic Records with Billie Topa Tate
9-28 Native Guide to Balance and Wellness with Billie Topa Tate
9-29 Professional Platform Class with Chris Allaun
10-6 Reiki 123 Practitioner with Anna Zajler (10-6, 10-20, 11-3)
10-12 Intro to Past Life Regression with Steve Shields
10-13 The Shaman's Reiki Class with Billie Topa Tate
10-19. Handmade Herbal Oils Workshop with Karen Clarke
10-26 Native Guide to Totems & Spirit Animals with Billie Topa Tate
11-10 The Shaman's Daily Practices with Billie Topa Tate
11-17 Reiki Phowa for Companion Animals with Billie Topa Tate
11-24 Sound Healing Neck & Shoulders with Chris Allaun
12-7 Customer Appreciation Day – Free Community Event
12-8 Ayurvedic Head Massage Training with Billie Topa Tate
12-9 Reiki Phowa with Chuck Killman
12-14 Intro. to EFT & Wellness Workshop with Steve Shields
12-15 Sound Healing Spinal Flush Training with Chris Allaun
12-16 Chakra Cleaning Class with Chris Allaun
12-21 Winter Solstice Ceremony with Billie Topa Tate
12-29 Hand Reflexology Class with Chris Allaun