Yoga and Meditation Equals Peace of Mind
Yoga and Meditation have been the topic of many articles but have you consider the story of a wonderful Apache family living the Yoga and Meditation connection. It all started many many moons ago Meditation and Yoga are so very important to our journey we call life. Both practices allow us to have that sacred time with ourselves which helps us to become aware of our strengths as well as our limitations and be guided by higher thought to become more and more wisdom filled and happy.
These qualities of wisdom and happiness are natural qualities which guide us to walk the world from a giving place. I remember when I was growing up, I was inspired by my mother and father as they walked this world with great reverence for nature and our native Apache principles. Mama Little Wolf and Papa Little Wolf ( my mother and father ) were like gentle giants, I was a small child feeling their love and respect for all animals, plants and nature.
As we walked across the desert heading out for the day, they would stop as the sun was rising to express a sacred intention, launch a sacred breath with the Creator and connect with their higher purpose for the day and for their lives. My mother would say that we all have our personal energy and it is our goal to learn how to guide this personal energy to navigate our journey we call life and for us ( the Apache tradition ) especially during sun rise and sunset, the 2 times that we have quiet moments for guiding our day and evening. My mother said that the Creator gifted us with many things, two of them being Sunrise and Sunset, according to our stories, the Creator gifted these two times to provide us with a opportunity to view this beautiful moment and reset our breath, refresh our thoughts and connect with the Universe. As a very young girl viewing this wonderful effort of intention I was inspired to use meditation and honor my self care of what people would call yoga to facilitate a wonderful flow of energy and balance.
My father Papa Little Wolf would show me how nature would demonstrate this practice to maintain good health and what we call " Sacred Balance" the balance of breath, meditation, exercise and our daily work. Papa Little Wolf would show me how the animal kingdom would do their daily activities and also maintain balance by using breath and stretching ( yoga ) to achieve optimal energy flow through out the body mind and spirit. I often see this when we do yoga postures for example – spinal energy flowing postures and heart opening positions. My teacher conveyed to me many years ago, the more light that is administered within the body, the faster the body can facilitate wonderful energy flow and thus healing our thoughts, feelings and vitality. Light means creating energy space through movement, breath and quieting the mind through meditation. Mama Little Wolf and Papa Little Wolf truly showed me that we live with many kingdoms on this wonderful earth we call home. All of these kingdoms have their gifts to help us during our meditation and yoga practices. The plant kingdom with essential qualities of medicine, the animal kingdom with their beautiful energy of living among their own beautiful families and so much more.

The sacred balance of meditation and yoga especially in group meditation and group yoga can help everyone experience the universal connection of a great sense of healing and is magnified by group efforts of meditation and yoga.

The inner wisdom of meditation and yoga practice helps us gain energy, vitality, deeper insights and tap into a much deeper understanding of this wonderful journey we call life.

As I grew older – I asked Mama Little Wolf and Papa Little Wolf what guided them the most during their sunrise and sunset ceremonies. Their answer developed my journey of teaching and sharing wisdom which provides rare glimpses of the inner universe and powerful meditation.My signature statement through all of my meditations I have developed throughout the years is forever a statement of that mystical moment when we all can understand our efforts, our questions, our journey. Here is the statement that is used within all my meditations and stems from the wonderful teachings of our Apache tradition. " All that I am, All that I was, All that I have done, All that has been done to me, has brought me to this very sacred moment in time." And so it is with our meditation and yoga practice we are growing and awakening and discovering more and more about ourselves. And to be brave to share our light and practice with others, especially with our families and all who need to be inspired to share their unique qualities on Mother Earth. This was to be the auspicious launching of my yoga and meditation practice and helped me with my great purpose. I trust this Apache family story inspires you to enjoy your yoga and meditation practice and I look forward to hearing your wonderful stories.

Billie Topa Tate is a traditional Native American healer and teacher of Mescalero Apache descent, trained and educated by numerous family Elders and extended family members. She is a Reiki Master Teacher Eighth Degree and licensed Therapeutic Massage Therapist. Billie is an approved provider of continuing education and meditation programs for: Meditation Teachers, Massage Therapists and Illinois Nurses. Billie Topa Tate has written and lectured extensively for more than 18 years. She is internationally recognized as a respected teacher, healer and advocate of Earth Friendly endeavors. Billie maintains a successful practice at her MSI center in Evanston, and with the expressed permission from her Native culture, Billie shares many of the ancestral principles, healing systems and native wisdoms with her students and clients.
---
AWAKEN THE GODDESS WITH YOU
Hello and Warm Greetings – This is Billie Topa Tate
We trust that this correspondence finds you doing something you love. We are officially excited about sharing this great Goddess Retreat with you. Many goddesses are registering and inquiring about this retreat.
We would like you to experience refreshing and empowering medicine on this special full moon goddess retreat. This is the perfect time to take a break from all the stress and awaken the Medicine Woman within you and learn some unique and healing wisdom with Billie Topa Tate.
Featuring many very special activities at the Goddess Retreat like the following…
Special Refreshing and Detoxing Full Moon Goddess Water Work Out
With our indoor heated pool – Experience gentle yoga and aquatic detoxing movements with aquatic water work out training expert Robin Bach. Beautiful music and expert guidance within the indoor pool secured for only the goddess retreat members at the Evanston Athletic Club. Afterward we will utilize the Steam Sauna and Hot Dry Sauna for a wonderful detoxing skin brushing experience. Followed by thermo jet water hot tub (optional). All supplies will be provided such as Verbana Coconut shampoo, coconut conditioner, and Verbana cleansers, as well as towels and showers. Everything a Goddess needs to end the evening. Also, We will be providing a goddess healthy organic meal pack for your ride home and soothing mantras for a restful evening. This is one of many great experiences within our retreat. Come join us for a fabulous refreshing and detoxing goddess time. Please bring your swim suit on the 1st day of the retreat. Remember, this is one of many unique experiences for all our goddesses on our retreat.
Please take a look at our Goddess Retreat schedule and register with a fellow Goddess for good karma. You deserve to take a break from your busy and stressful schedule. We will only be taking 20 goddesses for this retreat so please register as soon as possible so we have enough Medicine Bundles, Books, Journals, Handouts, Meals, and other Goddess Tools.
Wakan Tankan Nici Un,
May The Great Spirit Walk With You
Billie Topa Tate- Founder
Mescalero Apache
msi-healing.com 847.866.0505
Goddess Retreat 2019
March 16th Saturday & March 17th Sunday
Click here to see the retreat details and schedule
About The Instructor: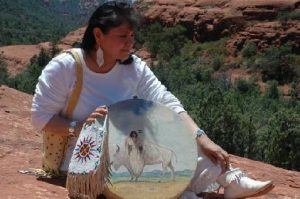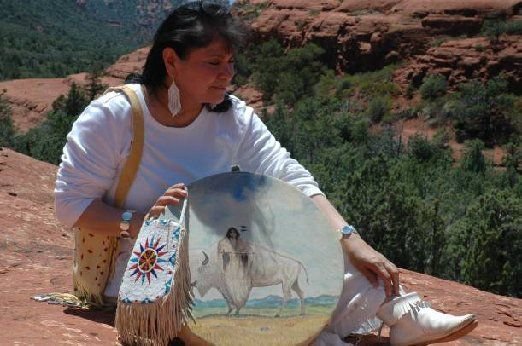 Billie Topa Tate' is the founder of MSI Healing INC an earth friendly educational institute located in Evanston, Illinois. Billie is Mescalero Apache and is dedicated to presenting the sacred principles, doctrines, and teachings of her Native Culture and many ancient wisdom systems from around the world, creating synthesis through harmony of many lineages. She is dedicated to be of service to anyone who is seeking wellness, spiritual growth, mindfulness and training to build on current healing practices. She has been offering services for over 25 years in the North Shore Evanston Community.
To learn more about Billie Topa Tate and her services, click here
---
A Special New Year Message from Billie Topa Tate…
Welcome to 2019 and all the wonderful information and journey this New Year will bring!
As Native people we believe that all the planets in the universe are very old and evolved beings which emanate energies to balance the universe. Just like our beautiful mountains that generate healing energy for all.  We also believe the mountains are beautiful and evolve spirits who maintain that space for people to refresh their spirit and bring them back to their great purpose… to experience and contribute to this wonderful world in a good and virtuous way.
Here are some insights I received during my meditation on the planets and asking the questions regarding what will be coming up for the New Year…
There is a shift in the approach to life.  Awareness starts to be the key element that drives many of the innovations regarding 2019 and 2020.
This is the year of mastering your skills – for those of you who wish to take initiative to become experts in your field.
Wisdom filled planning and determination will start to culminate much more within the masses of communities in the world.
2019 is about learning that we have "this much energy"  and "this much time " and to be mindful to partition the time and energy …
Virtuously mentor others
Experience joy and fun
Be creative and inventive
Seek out and share our own expertise to share with the world
New insights for 2019…
There will be new plant based food sources that will be developed that are healthier.
New companies will emerge with plant-based nutrients respective to supplements, nutrition and clothing.
Indigenous people will be sought out for timeless platforms of healing which will help many people.
Old platforms of business will still try to survive in the pharmaceutical region as well as the chemical region.  However, because of the platform of the internet there will be more studies and discussions throughout the regions of different public areas that will initiate great creativity, truths, time-tested nutrition's and wellness life styles that will assist the people in their wellness.
May your wonderful 2019 journey be filled with endless joy and beautiful experience.
Many Blessings,
Billie Topa Tate
Mescalero Apache
Founder of MSI Healing INC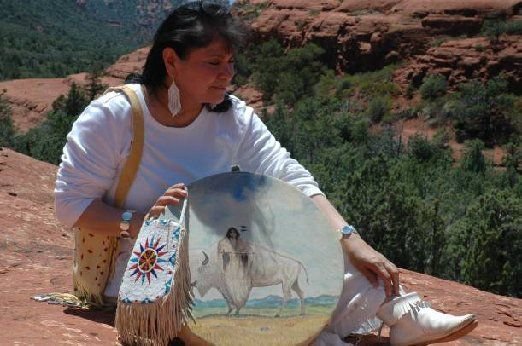 Billie Topa Tate' is the founder of MSI Healing INC an earth friendly educational institute located in Evanston, Illinois. Billie is Mescalero Apache and is dedicated to presenting the sacred principles, doctrines, and teachings of her Native Culture and many ancient wisdom systems from around the world, creating synthesis through harmony of many lineages.  She is dedicated to be of service to anyone who is seeking wellness, spiritual growth, mindfulness and training to build on current healing practices.  She has been offering services for over 25 years in the North Shore Evanston Community.
 To learn more about Billie Topa Tate and her services, click here
---
Mystical Meaning Behind Meteor Showers
The Universes Mystical Action and What This Means
The Mescalero Apache belief is that our ancestors and divine helpers on the other side are right next to us in the energy world and when it rains the window is open even more – allowing us to be guided by their wisdom in deeper ways.   Here is some wonderful mystical information not written in any books but she heard in oral tradition.
You can use this wonderful information to really develop a deeper understanding of your great journey.   Meditating during meteor showers brings deeper insights into your life.  We recommend the meditation called the "gift of inner light" which you can purchase on our by clicking here!
A meteor shower is the universes way of redistributing minerals throughout the universe, to help harmonize the earth, empower the earth and provide a potential for a shift of consciousness.     We are made of the minerals of the stars and by infusing the earth with other minerals from other galaxies , we thus have a potential to evolve, mature and become more self aware.   It is said meteors are touched by the finger of the Creator, just like thunder and lightening.   Thus, it has vitality of  the Creators power.   Therefore, during times of meteor showers it would be important to do meditation, sweat lodge, vision quest  and then wisdom filled service work ( whether this positive service work is energetic or physical )   this allows the universe an opportunity to facilitate more enlightenment through these stones upon the earth.
The ancient Greeks believed that finding a meteorite would bring the owner a year's worth of good luck and a wish,  and it is from them that we have ultimately inherited the idea of wishing upon a star. Our Native American Elders and Medicine Women and Men have been known to wear them as protective amulets, passing them down through generation after generation of shamans as symbols of their connection with the Creators insights, wisdom, and  power. Temples throughout the ancient Mediterranean were in possession of meteorites, likewise holding them as sacred objects. Even in the modern world, a meteorite is one of the most venerated objects in contemporary monotheistic religious practices.
The following meditation recommendations can be found by clicking here, profound meditations during our Meteor showers.
Dates
Heavenly  Activity
Mystical  Steps  to Take
Jan 2nd
Quadrantids Meteor Shower
Jyoti  Meditation CD or MP3 download

This may be visual on Jan 1-5

April 21st
Lyrids

Meteor Shower

Om Ah Hum Meditation CD  or MP3 download

The Lyrids are a strong meteor shower lasting from april 16th to april 26th ea year

May 6th
Aquariids Meteor Shower
Gayatri Mantra CD  or MP3 download

Aquariids meteor shower usually produce about 10 meteors per hour,  the highest intensity usually take place on 5 and 6th of May

August 13th
Perseids Meteor Shower
Seven Sacred Word Meditation  CD or MP3 download

Often enjoyed by summer campers and can be seen in open skies

October 8th
Draconids Meteor Shower
Timelessness Meditation CD or MP3 download

The draconids are a meteor shower whose parent body is the periodic comet 21p location.

October 20
Orionids Meteor Shower
Etheric Enhancement  CD Meditation or MP3 download

Associated w Hailey comet appear to come from  the constellations of Orion
| | | |
| --- | --- | --- |
| Heavenly Activity | Mystical Meaning | Billie Topa Tate's Recommendations |
| A light rain is | | ·   meditation – Jyoti |
| A heavy rain is | | ·   meditation – Om Ah Hum |
| A hail shower is | | ·   meditation –  Gaytri Mantra |
| A Meteor shower is | | ·   meditation –Timelessness |
---
Free Meditation Mala Giveaway
This offer is for our kind customers who have purchased Billie Topa Tate's meditations, and have joined in our vision of  "Creating a Sacred Person One Person at a Time" at MSI Wellness Center.
How To Win:
Fun Interactive Opportunity!  Everything is going to video,  film a short video sharing how you enjoy and incorporate Billie Topa Tate's meditations into your practice.  Click here to see the library of downloadable Meditations.
Create a nice space at home or outside and make a short video for Billie Topa Tate. Create this quick and fun video, then email the video to info@msi-healing.com.
How again? Create a 2-5 minute video and share your wonderful meditation practice with any one of Billie Topa Tate's meditations.
When your video is ready… email the video to info@msi-healing.com
and you will be entered to win!  Easy!  Thank you!
About The Prize: 
Sacred Mala Bracelet handmade by Billie Topa Tate and blessed with Healing Energy.  Malas are worn for meditation or yoga to deepen your practice and as a reminder to keep your attention focused during your practice.   Malas can also be used to inspire you as you set your intentions.  Each stone has subtle properties which effect the subconscious of the mind.
We will announce the winner of our FREE MALA GIVEAWAY on Friday November 2, 2018! Please check our Facebook Page for the Announcement.
*US SHIPPING INCLUDED, FOR INTERNATIONAL WINNERS, WE WILL COLLECT INTERNATIONAL AIRMAIL FEE ONLY
MSI Healing INC reserve all rights of free video usage, thanks and good luck!!